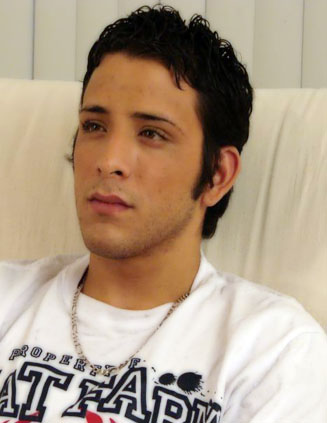 Ricardo saw our ad in the newspaper and he recently lost his job at a quick check cashing place and now he needs to make some money quick to pay the bills. He is 20 years old, straight, and he currently has a girlfriend. I had Ricardo start to take off his clothes and I knew that he was really nervous because he was waiting for me to tell him what to do. He took off his shirt and then paused for a moment. I asked him if he ever worked out and he said that he occasionally did, but that it was kind of hard to get in the gym. He stood up to take off the rest of his clothes, before sitting back down. I put on a porn for him to watch and get turned on by. After just a moment of jerking off he changed positions and laid down on the couch so that he could be more comfortable. With some lube in his hand he was able to get harder and pulled his dick in an upwards motion.

Using his other hand he was playing with his balls so that he would stay turned on. I noticed that he would clothes his eyes for a little bit, and I figured that he was playing a fantasy in his head for him to watch. He started to wiggle and move his feet on the floor. When I was over his head with the camera he whispered to me that he was about to cum and asked me if it was ok. At any point, it is hard to stop anyone from cumming if they are about too. So, I told him to go ahead and that was when his breathing changed going a little faster.

He sprayed his load up his stomach and chest in little spurts, and was relieved to have finished. I got him his check afterwards and we talked for just a bit. He said that he was nervous in this shoot and that he wanted to do more shoots here in the near future. I explained to him that he was going to have do a duo shoot eventually with another guy, even if it was no touching if he wanted more work, and he said that he would have to see. I told him that I would go ahead and put him in another solo shoot next time so that way maybe he would be more comfortable. Keep watching to see if this guy comes back for more work.