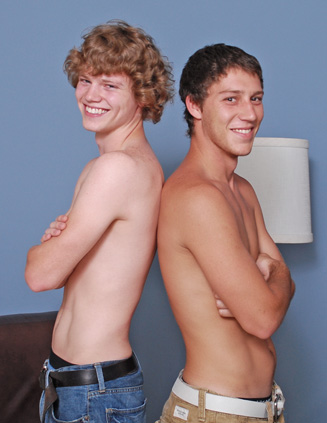 Paul Canon is back! And Max Flint is with him. How can you not be excited about that?

Max describes what he's been doing recently. Some of his time has been spent at Bonnaroo. Who knew such a funky event could be found in Manchester, Tennessee?

Paul continues to make travelingto our studios exciting. For his first ever vid, there were car issues. Today, it was a number of flubbed connections.

"Missed one bus," Paul describes. "Then missed another bus. Then a train. And then I somehow weaseled my way over here."

You will appreciate his effort because today Paul is set to do something he's not done before: suck a dude's dick. Who wouldn't want to practicewith Max?

The two lose everything, except their boxers. As the pro, it will be Max starting out with some pole loving. Hefeels his scene partner up, and soon enough a tent pops up in Paul's boxers.

"I like your boxers," Max says.

Both boys get rid of their underwear, and Max keeps stroking Paul's pole. Soon enoughMax starts sucking. The moment those delicious lips get on his sausage, Paul grabs Max's locks. Paul moans like his tool has never been sucked like this before.

Max is going slow, not deep throating. When he comes up for air, he makes sure to give Paul some strokes. Max does gag once.

"Don't choke," Paul jokes.

It's hard for Max not to because Paul is a hung fellow. Max even has to wipe effort tears from his face.

It's time for Paul to apply his lessons. He gets on his stomach -- with that phat booty pointed to the ceiling -- and puts his head in Max's lap. He treats Max's tool like it's a lollipop. Sweetly licking the head and shaft. There's no going to the pubes, but Max is pleased.

"Not bad," Max says.

The camera gives a view of Paul's ass, an area that most BSB people want to see pierced. :-) Paul kisses Max's meat gently, making sure to use his tongue, mouth, and lips.

Because we are breaking Paul's boundaries, might as well do something with that backside. LOL! He gets on his hands and knees and Max licks that boy pussy. This might be Paul's first time getting his ass eaten, but his moans show a man in heat. When asked how it feels, he can barely get out an answer.

"Oh, it's awesome," Paul whispers.

Max eats that hole like it's his last meal, slowly and lovingly.

Paul flips over and Max returns to sucking. Too bad Max didn't plug that sweet hole. LOL! He sucks the balls, going down as far as he can. When he starts stroking Paul, the newbie loses it and shoots all over his stomach!

Max stands over Paul and jerks a nut. His load lands on Paul's tummy. All that jizz is rubbed into Paul's soft skin. Maybe next time Paul and/or Max can lick some of that juice off their fingers? LOL!