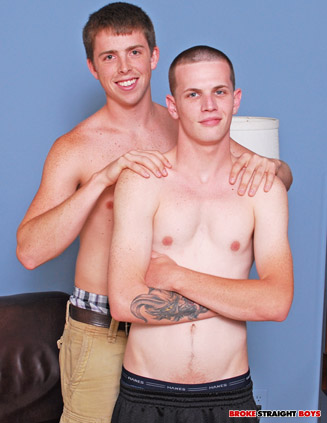 It's always a better day at BSB studios when Anthony is around. Aside from being a sexy MF (all hail to Prince), Anthony always gives a top notch performance when the camera is on.

Zane Tate joins Anthony today. No one will ever say Zane is garrulous, but with a tool his size words are unnecessary. The boys share tidbits of their summer days, but the small talk keeps us from the main event. The lads strip, Zane gets on the bed, and Anthony hits his knees. He opens wide and starts sucking. Soon enough, the blood enlarges Zane's member and Anthony's mouth overflows with juice.

"It's getting messy," Anthony observes.

"Fuck, yeah," Zane says as he face fucks his partner. Anthony's eyes are tearing from the effort, but he keeps working that mouth.

Anthony takes a rest; he sits in the chair and lets Zane do some sucking. Zane knows what a good blow job is, and does his best to make Anthony happy.

"I think it's about that time," the cameraman announces.

Anthony understands his role in today's vignette. He gets on his back, and lubes his hole. Zane aims at the entryway and pushes in. Anthony's trademark "O" face instantly appears.

"O fuck, man," Anthony whines. "That's not small. At all."

Don't you love when our bottoms mimic Dr. Seuss? LOL

Zane is long stroking his partner. Anthony's toes curl at every down stroke.

"Owwwwwww. You fucker," Anthony yells.

Zane is oblivious to these cries of pain and pleasure, but who can blame him? There is no one in the BSB stable with an ass as delicious as Anthony's.

"Some lube," Anthony requests. "I'm dry down there."

Zane lubes him up; when he returns, Anthony still whimpers "oh fuck." His face stays contorted in that trademarked "O."

Talking about facial expressions, has Zane ever been this turned on by man ass? His tongue is out, eyes closed, and his expression is all bliss.

"Let's try that a different way," Anthony pleads. "It's hurting. Pretty badly."

"Don't be such a bitch," Zane suggests.

"Oh, yeah, I'm a bitch," Anthony retorts. "You try taking."

"Nope," Zane quickly responds, cutting off the suggestion. Come on Zane! If you're going to beautifully bust an ass, the same must be done to you.

Riding Zane's monster doesn't change much for our weary bottom

"Oh, fuck man," Anthony yells.

For Zane either position is good. His dick is drilling into fine ass territory. Despite the difficult anal intrusion, Anthony's load lands right above his pubes. He gets off Zane's dick and the top's cum covers his upper stomach.

"Figured a lot of cum would have to come out of that big hose," observes Anthony.

Never disagree with a perceptive bottom!