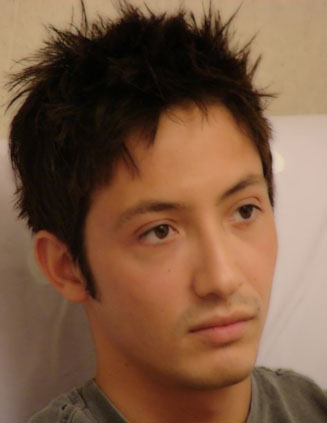 I would like to introduce you to Davin, who is 23, and Tony, who is 21. What caught my attention right before the shoot was that they had the same last name and in talking to them they were brothers. To top it all off they were both gay as well, and Davin caught his little brother surfing the net for gay porn on their family computer and they both confronted each other about it. I guess they have been going to gay clubs together and even have shared some boyfriends with each other. I explained to them that I usually only shoot straight guys, and that is when they told me that they had a fantasy of sharing a straight guy to have sex with. So, of course, I figured that I could make that happen for them, and so I told them that we could do a test shoot and have them just jerk off next to each other.

Both brothers started to undress taking off their shirts first and then standing up to go for their pants and underwear. I showed them where I had the lube and they both took a handful and started to jerk off. I couldn't imagine sitting on the couch next to my brother jerking off, but something told me that this wasn't their first time doing this either. After a while when I thought they were a little more comfortable I told Davin to play with his younger brother's dick and he did it. Then, Tony reached over and did the same thing. When they went for some more lube they stopped and went back to stroking their own cocks again.

Tony had a pretty big dick for being such a small guy, and the head on his penis was a deep purple and plump in size. He started to breath very loud, and deep and you could really see his stomach going in, and then a large amount of cum landed on his stomach and filled his belly button with cum. He took a couple more deep breaths, and then was just sitting there to relax. I then turned the camera and the pressure over to his brother to see how his brother would do. That is when Davin closed his eyes so he didn't have to focus on me, and he stroked his cock with fast little strokes. Davin had to go for a bit in order to get anywhere close to having an orgasm. He started to breath a lot louder and then his load went all over his stomach and I do have to say that the big brother did have the big size load and I was impressed.

I told both brothers that I would have them back in here soon to do a shoot with a straight guy to fulfill their fantasy. They said that they liked younger guys, that were tone, smooth, and had big, monsters of a cock. We always have lots of good looking straight guys walking through our doors so I saw no problem, so now all I needed to do is figure out who I was going to put with them.