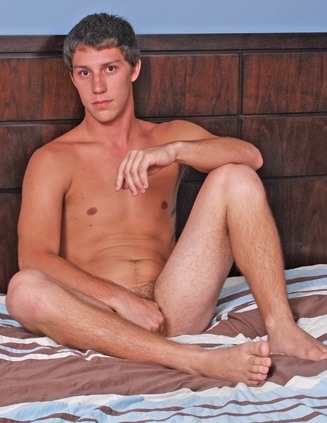 Poor Paul Canon. His friend's car conked out on his way to BSB studios, and he had to be picked up by our cameraman. What would you do have this handsome hunk in your vehicle? :-)

He just turned 21, which means he can walk into any bar in the country.

"I can drink legally now," he notes with a grin.

Paul insists he's a good boy, and refuses to give any details about his sexual conquests. A young gentleman? What's not to love? :-) He does share a story of when he jerked off in the back seat when his parents were driving the family mini-van. The horny lad was in the back seat and covered up with blankets! LOL

There are all the standard reasons for going gaga over Paul, but let's focus on two. When asked to describe his favorite body part, he says thumbs! That has to be a BSB first. There is also a cute story about a tattoo on his well rounded ass. Won't give it away, but Paul's laughter makes the tale more than perfect.

Paul gets on the bed and begins stroking. He gets hard rather quickly, and even gets more lube. He gives us a great show by slowing stroking himself. The tool is long and we get a closeup of the bloated head as he tries to coaxout some pre-cum.

Paul lies on his stomach, giving a better peek of that mouthwatering butt.

"That feels pretty good, actually," he admits as he continues to stroke.

There's a shot from above and it's easy to imagine some lucky stud piercing that ass.

"Spread your cheeks for me, Paul," the cameraman suggests.

The model does, and adds a question only a tease would ask (smile).

"You like that," he wonders.

"That's pretty tight," the cameraman observes.

"Yeah. It's never had anything in there," Paul returns.

Virgin ass! Someone's cherry needs to be lost. He then spreads both cheeks and we see a hot, hairy, pink hole.

"It's like a pussy, but a dude's version," Paul says.

He then makes a confession that makes his tease status all but certain. :-)

"I kind of like to play with my ass sometimes when I'm like really bored," Paul says. He then looks in camera and laughs. Dude knows how to push our buttons! LOL

He turns over and keeps stroking that fat dick, trying to push out a dollop of pre-cum. The clear drop eventually comes out. Didn't you expect him to lick that juice up?

His load pumps out in two spurtsplastering his hand in man goo.

"Wow," Paul says.

Never disagree with a newbie. LOL!