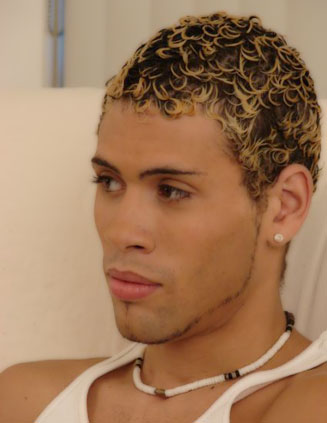 I meet Glacias while I was out running some errands and I handed him a business card and he called me up so that he could make some more money to treat his girlfriend to better dinners and more things to do. He has been with his girlfriend for a while now, and this was his first time in front of the camera. I went over what was going to happen in this shoot and then what he could expect after this. That he would get to work with other girls and that it might be better if he doesn't tell his girlfriend. I had Glacias start with to get undressed and he removed his shirt to show that he had a smooth, tan, semi-toned chest. He kept the close coming off as I went to put on a video for him to watch. He removed the shoes, shorts, briefs, and then the socks. Standing I was able to see that Glacias had on a nice set of washboard abs that I am sure he had to work for at some point. He saves his balls and trims the pubic hair above his cock nice and short.

Playing with himself he was able start to get hard right away with out much touching and lube. He was really quiet as he jerked off and seemed to be in his own little work. The video seemed to help get him turned on and I could tell that he was focusing on trying to block out the camera. Once Glacias put some lube on his dick then he started to jerk off a little differently and started to give his hand a twisting motion as he came upward. With his left hand he applied some pressure to the area right below his balls.

It actually didn't take Glacias long in the shoot before all of a sudden he started to breath out loud and make some noise. As he did he came on his lower stomach and it seemed to go in little drops everywhere. I asked him off camera when he had sex or jerked off last and he said the night before. In thinking about it, I told him to hold off on having the sex at least a day before the shoot so that way he could build up his come shot for us to have. I know that he wants to have sex with girls, and who knows I might bring his girlfriend in. I figured that I would try and bring Glacias back soon, because I knew that he was disparate to make some money fast, so keep watching and let's see what I can get him to do next.