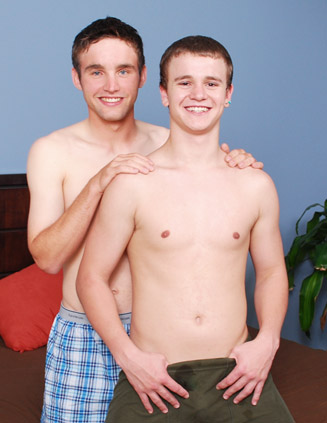 Although Trey Evans and Dennis Trapp are relatively new colts in the BSB stable, they have made
many a tongue pant. The two will be our video couple for the day, with Dennis' hole playing the
role of the deflowered virgin (grin)

"Nervous. Kind of ready for it,"Dennis says when asked how he feels about today's scene.

We don't condone betting here at BSB, but willing to put down good odds that many of us are also
"ready" to see cute as abutton Dennis on all fours.

Trey also expresses some anxiety, but look at his tool when he pulls off his boxers. Cocked and
loaded!

Dennis hops on the bed and puts his tongue to work. He looks so inviting on his stomach, with his
plump ass raised in the air. He looks even sexier when he looks at Trey. Don't you love how
Dennis lips smack when he's sucking dick?

Trey joins Dennis on the bed, and our frisky cock sucker cuddles up so he can keep working. Trey
murmurs "fuck" as Dennis slurps away. The camera gives us a great view of that just about to be
surveyed backside.

Dennis takes a break and Trey does some mouth work. Dennis bites his bottom lip as his partner
licks away.

"Dennis? You ready to get fucked," the cameraman asks.

"Oh yeah," he quickly replies.

Dennis is next on his back. His toes are curling and his moans are a mixture of pain and pleasure.
Trey is so into the virgin territory that mercy is not on his mind. Dennis takes the fucking like we
know he could.

"Oh shit," Dennis moans.

His hole might not be used to what's happening, but Dennis wants it all.

"Fuck me with your big dick. Come on," Dennis orders.

Like any bossy bottom, Dennis doesn't know what he wants.

"Oh, shit. It's so big," he cries.

Trey's attention is focused on getting that hole plowed. When he rolls Dennis over on his hands and
knees, Trey pulls that ass on his dick. Dennis puts his head down, and just whimpers in the
mattress.

Soon enough Trey's strokes get more and more insistent. He pulls out and covers Dennis butt with
cum. His orgasm is so intense he needs to hold on to Dennis' backside so not to fall.

Dennis falls on his back and jerks himself. Trey grabs his partner's balls. Each time he licks his lips
it looks like he wants to catch some of the impending load. Dennis puts his hand on Trey's neck. A
hint it would be more than OK for Trey to take a taste?

Alas, Dennis' hot load is wasted on his adorable stomach and chest. Come on Trey! Lick it up!We
all know you want a sip!:-)

So who should Dennis bottom for next? Which top should put him through another workout?