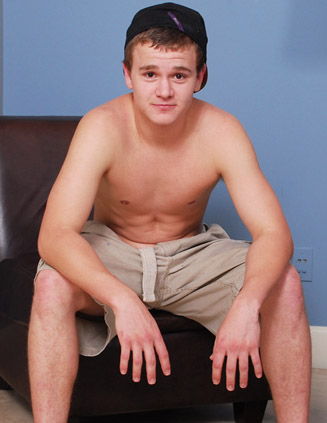 Want to know why you will fall for Dennis Trapp: have you ever met a guy who described his jerk
off sessions as romantic?

"Around 9 o'clock at night," the newbie stud describes his standard "alone time" sessions. "Windows
open. Cool breeze flowing throughmy room. No noise. Nice scenic kind of thing."

The first time he played with his banana, Dennis was 14. He's 18 now, and is in the studio for the
standard reason: searching for bank notes. However, the romantic also has an adventurous side to
him!Jerking for bucks is something he always wanted to do.

"Always wanted to try it out," Dennis smirks.

Dennis is especially fond of his penis and shakes it when the camera zooms in for a closeup.
Another reason you'll groove to Dennis is because he keeps the shy fellow schtick on the down low.
The clothes come off and he immediately gives his monkey a spanking.

Dennis takes his beef stick play seriously. Closed eyes, clenched face, and labored breathing. His
legs and feet do the pleasure twitch. The camera lingers over his body. He still has some baby fat,
but that only makes him a more tasty meal.

Dennis gets on the bed and gives us a show of his ass. It's round and curvy. Let's say it now: that
booty needs a sound busting.When he spreads his cheeks, we get to see the hole. Earlier in the
shoot, Dennis mentioned his girlfriend. Wonder if she ever slipped a finger in?

Before he shoots, Dennis curses. That makes him hotter than he already is. His creamy happy juice
squirts out, landing on his stomach.

Dennis is pleased with his jerk off. Are you? Want him back?