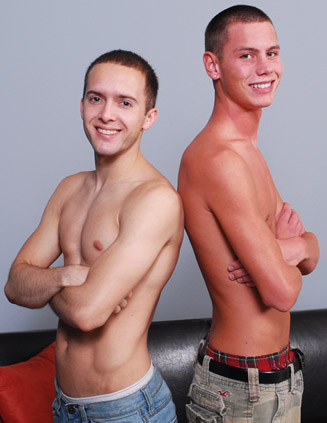 Today is a newbie-fest treat. Brandon Hart and Carter Blane take over our casting couch. Both
models performed flawlessly in their solo videos, and will give man-on-man a try. Neither will win
awards for talking too much (smile), but they are ready for the show.

"A little but, but excited too though," Carter says when asked by the cameraman if he's nervous.

Brandon helps Carter lose everything except underwear. Carter's candy cane stretches the boxer's
fabric. Brandon stares, transfixed by the size of his partner's cob. He shapes the fabric around
hammer. A taste must be had, so licks the boxers as if he's tasting a popsicle on a a summer day.

When told to stand up, Brandon gets on his knees and kisses the tip. The cameraman wants a
glimpse of Carter's backside. Remember how reticent he was about showing any hole in his solo?
Brandon turns Carter around, pulls down the undies, and we finally get a glimpses of Carter's tan
ass. Brandon sweetly tongues a cheek.

Brandon is a proud graduate of "blow jobs are meant to be enjoyed" school. He laps Carter's
sausage, gives the head tender kisses, and swirls his tongue up and down the mighty shaft. Even
when Carter sits back down, Brandon takes his time with the monster.

Brandon also likes a full man meal. He greedily gobbles Carter's dick, but gives his partner's
nipples attention. He languidly sucks one, looking briefly in Carter's face. Did he want a kiss?

He tries deep throating, but it's just too much dick for his sexy mouth. He looks up as if to
apologize, but Carter's eyes are closed. Oblivious to everything but the mouth on his meat.

Brandon quietly commands Carter to "stand up." The stud does with no questions asked. Brandon
returns to his knees. There's no doubt about Carter's excitement because his dick points straight to
the ceiling.

Brandon keeps up with his slow sucking, looking at Carter. He is so innocent, and sex starved,
when he stares into Carter's face.

Carter returns to the couch, this time on his back. He has to cum and Brandon jerks that big ol'
nasty thing. Aside from being hung like a Shetland pony, Carter is the quietest gushers in the BSB
stable. However, few can match him in liquid volume. When he shoots, his man goo blankets his
stomach and chest. It even fills his belly button.

Brandon takes a few tentative licks at the shaft. Although the scene is over, Brandon holds onto
Carter's spent johnson like he wants to play some more. Can you blame him?

Next time we see these two together, hopefully Brandon can slip out of those jeans. He is ready to
take a few more "lessons" (smile).