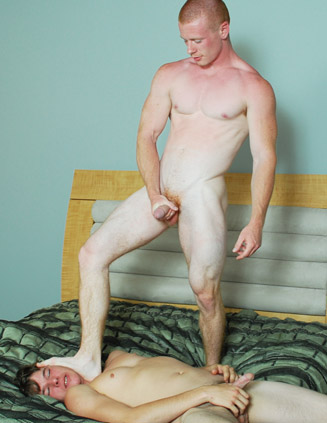 Today's vid is slightly experimental. Keep calm. BSB isn't going to mimic Krzysztof Kieuc0u347
lowski's technique (go rent his "Three Colors" trilogy). Kodi and Spencer have been ruminating how
"aggressive and nasty" they are with girls. Today they offer a peek of how a lucky lass is treated if
she's fortunate enough to be a bedroom companion. Kodi will be the fortunate fellow on the
receiving end (!) of Spencer's nastiness and aggression.

The red rocket takes his shirt off and pulls Kodi to his feet. Spencer removes Kodi's shirt also, and
the two share a kiss. When did our muscular ginger snap get a tongue piercing?

Kodi's pants are removed, and his swinging dick says it all. Spencer washes Kodi's nipple and
stomach in spit. He gets to Kodi's knob and puts it in his mouth. Kodi is pleased with things thus
far.

"Suck that fucking cock," he whispers.

"I like your wet mouth on my dick," he adds.

Kodi's curled toes confirm that statement.
\
Spencer has been too busy with sausage in his mouth to say anything; however, he pulls off and
pushes Kodi's knees to his chest.

"You like that," Spencer wonders as he spanks his meat on Kodi's man hole.

Kodi likes it, but Spencer doesn't really care.

"You fucking better like that," Spencer notes.

The two performers engage in the dirty talk.

"That's a tight pink hole though," Spencer observes.

"You want to fuck that ass, don't you," Kodi asks.

"I'm going to ravish that ass," Spencer responds.

Spencer's rod looks like it was made for Kodi's butt. When Kodi pulls his cheeks apart, Spencer
places his lance in the crevice. He even gives those milky cheeks a hard slap.

Before Kodi's mussy is used, his mouth must be given a workout. Spencer puts the boy on the
floor, with his torso against the bed. He fucks Kodi's mouth. Hard. The poor guy can't come up for
air, or control anything because Spencer won't allow it. Kodi heaves and chokes, but takes the
mouth filling like a man.

Spencer turns tender and bring's Kodi to his knees. His mouth is still stuffed with red meat, but he
gets to control some of the action.

"You like the way I suck on that cock,"Kodi wants to know.

"That's right. Suck on it," Spencer demands.

Spencer wants a try of Kodi's less accommodating opening. He flings him on the bed, making sure
that ass faces the ceiling.

"Spread those cheeks," Spencer orders.

Kodi does but adds his own command.

"Come fuck this ass."

He might have wanted to add "gently."Once Spencer gets past the portal, he is balls deep.At
first we only hear Kodi's moans of "oh, fuck." We see his hands reach for the bed post, as if he's
trying to make room for the invasion.

The camera finally gets to Kodi's face. His eyes are tightly closed, and expletives stream from that
charming mouth. It's like he's unsure if he's being filled precisely, heartlessly, or a little of both.

Kodi may not have the same hair length when he started at BSB, but Spencer's grabs what's left of
the boy's locks. He pulls Kodi's head back and rides him like an unruly buck. Eventually he reaches
around and puts his fingers in the lad's mouth, giving Kodi the look of a hooked fish.

Kodi is thrown on his side and the fucking continues. He might be used and abused, but he's not
going to give control.

"Smack that fucking ass," Kodi commands when Spencer gives a cheek a well earned swat.

Spencer finally pulls out, but Kodi gets to cum first. The carmine top finger fucks, with two fingers,
the bottom's well used tunnel. The digit insertion is heartless, but Kodi's load is considerable. The
finger exploration continues even after the boy shoot his spooge. There is a shot of the Kodi's ass;
the hole is gapping and wet.

Spencer puts his foot on Kodi's face and jerks himself. He looks like an adventurer from the olden
days marking newly discovered territory. His seed falls all over Kodi, even landing on the boy's
sweet face. Alas, none ends in his open mouth.

"You like that," Spencer wonders.

What do you think Kodi's answer is? What's YOUR answer?