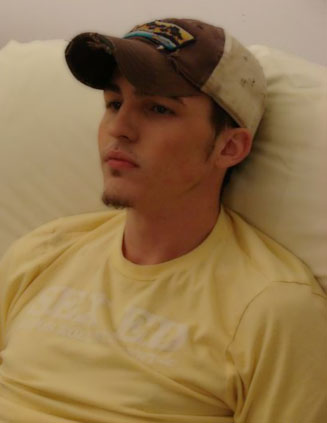 Wes is 21, and Casey is 21, both wanted to do a shoot and I explained to them that all they needed to do was jerk off next to each other and give me a good cum shoot. They both seemed to be down for doing the shoot and saw no problem doing it. Neither one had done this before so this would be a new experience. I had the guys start the shoot by taking off their shirts, and I had Wes take off his hat. They both agreed that they needed some porn in order to get off next to another dude. Taking off their pants when they got down to the underwear I had them stand up one at a time and show the camera their asses so that we could see. Then, both guys started to play with themselves inside their underwear. I would have to say that Wes had more of a jock type build and Casey had more of a twink type body. As we started to see them get hard, Casey had the hugest monster of a cock in his hand. He said that he wasn't completely hard yet, but that he is 11 inches long, by 8.5 inches around. Wes was a little shocked by the size, and I had him reach over and touch it.

Taking a hold of Casey's cock, he started to jerk him off starring at its size. He took a hold of it with both hands to show it off. Then, he started to play with himself to get back to being turned on. I told Wes to keep stroking Casey's cock, and I then offered him some more money to suck it. He agreed to give his first dick a blow job, and he lowered his lips down over Casey's cock, barely putting half if it in his mouth. West was getting into giving the head, and he started to use his tongue. Casey's gave him shit, for giving such good head, and Wes just said that he knows what he likes. I think put the offer on the table for Casey to try, and he didn't really want to do it. Casey seemed to have a head on his shoulder, and didn't want to try it. However, when he know that he was going to be making more money he agreed to give it a shot.

Pulling off their underwear, both guys then became naked so that we could get a better view of their whole package. Wes as quick to get his off, so he could play for a second before Casey took it over. Leaning over Casey placed the semi-limp dick in his mouth. His mouth moved up and down on the cock and it started to grow in size in time. Wes put his hand on the back of Casey's head and moved his hair out of the way for us to get a better view. I could tell that Wes was enjoying it, when he started to face fuck Casey's mouth. Both guys were still pretty quiet for the most part, except for Casey's smacking noises he made with his mouth. After a little while I had them change couch into a bed, so that they could 69 because I figured that would be much hotter.

Sucking each others cocks they made body contact with each other and it was hot. Both would actually rub the other one's chest with their hands and that. With the shoot going so well, I asked if we could do some fucking. I offered them 800 a piece and then I still had to up the pay to $900 a piece to fuck. They wanted to make sure that no one would see this and so I decided to give them $1000 a piece. Casey got into the doggie position and Wes got in place behind him. As Wes started to go in and out we discovered that Casey was very tight, and that Wes couldn't really stay hard. Changing things around, Wes got into position to ride the monster cock that Casey had and it took a while for him to be able to sit on it, but he actually sat on it all the way down to the base. Watch the video to see the real live reaction on Wes's face as he is in pain with his asshole getting stretched for the first time by a cock. After a while he was able to start to ride it, and Casey was able to get hard. This was the real deal of a straight boy getting fucked. Then, I had them change positions and they tried to get Wes on his back without pulling out and it didn't work. Wes put his legs in the air and Casey worked his way back into Wes's tight little ass. For a while they were actually able to pick up some very good speed, and it looked very hot the way that they were fucking. Wes was able to get turned on after a while of the dick in his ass, but with all the fucking he didn't know if he would able to cum after that big of a dick in his ass. I said that it was ok that he wasn't able to give a cum shoot. Casey on the other hand laid back on the bed and started to jerk off. As he got closer he got louder with his breathing and he let me know that he was going to blow his load. He came on his lower stomach a nice size load and he actually got sum on his face and upper chest. That was a great cum shot, and a even better shoot. I am glad that both guys gave us a good show.