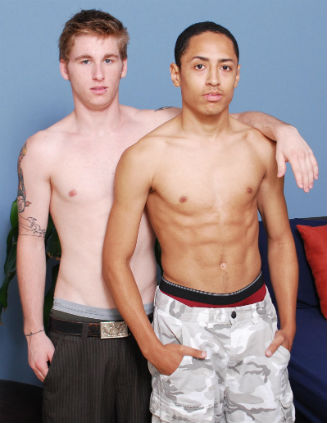 Brade and Liam are the stars of today's BSB novella (have to use that worthless English degree).
Both are relatively new to man sex, but have shown talent for performing in front of the camera.
Aside from being relatively new-ish, they share an endearing trait: instant woodies before the
underwear comes off!

The cameraman notes Brade role's today is as bottom. Which is perfect because in his solo vid, he
was at ease fingering that hole.

"I'm popping his cherry," Liam asks.

Brade looks slightly nervous, those doe eyes gleaming. The cameraman wonders if Brade's magina
will be tight.

"I'm pretty sure," Brade responds in an feeble attempt to defend his virgin honor (grin).

"I hope so," Liam says.

Both take off everything and, of course, are instantly ready to play. They reach over to pull their
dicks; for a brief moment it looks like they are going to passionately kiss. It doesn't happen (on
camera at least).

Liam gets to work first, snuggling up to suck his scene partner off. His soft pink tongue goes up and
down Brade's meat before he starts really sucking.

Initially Liam goes slow, trying to get used to Brade's width. He picks up the pace though, straining
to deep throat the fellow stud. Despite the effort (his neck bones stick out), Liam is an untroubled.
His curled toes and hard dick tell the real story.

Brade is all heavy breathing. He looks at us occasionally (such a cutie). Outside of that he leans
backs, puts his hand on Liam's head, and let's the feelings flow.

Brade returns the blow job favor, and boy! He's taken some lessons since his last vid. His mouth is
cavernous, and when his nose nestles Liam's pubes, the eyes of our pale skinned model do a 360
roll.

Liam, who has a bottom gene, turns all demanding by telling Brade to get on all fours. Isn't there a
theory about bottoms being distinguished tops? Brade does what he's told by raising his plump,
cinnamon colored, ass in the air. He's heat whimpering even before Liam does anything. When
Liam sticks a finger in that captivating boy pussy, Brade's loud sighs bounce off the walls.

As Brade gets finger fucked goose bumps pop out on the lad's butt cheeks. Liam isn't a brutal finger
explorer, but he is persistent. Makes sure to go beyond the knuckle so Brade can be prepared for a
more sizable intruder. When asked how it feels, Brade can barely get the words out.

"It feels fucking amazing."

"He likes it," the cameraman says to Liam.

"Maybe I should get to fucking his ass," Liam responds. "What do you think?"

Come on Liam. No one here is that dumb. You know the answer!

When Liam first works his tool into Brade, the happy bottom murmurs, "oh, fuck."

"Goddamn. You're tight," observes Liam.

He pulls out for a better angle. He returns, going balls deep. At first it's hard to read Brade's
moans. Is the pain too much? Or is the pleasure of getting his sweet spot dick jammed making him
crazy? We soon get the answer when he mutters, "fuck me."

Liam obliges, and what's hot is that Brade offers no resistance. Don't think Liam would listen even
if he did. Puts his hands on his partner's hips and goes to town.

Brade is flipped over, his head leaning over the bed's edge. His mouth is agape; it's easy to
imagine him sucking another dick as Liam's fills that ass (maybe in his next vid, Brade can take on
two studs).

Unfortunately we don't get to see Brade cum, but Liam does bust a rather healthy nut. Brade
learns it's good to keep his mouth open for any juice that lands his way. When Liam pulls out of
Brade's booty, the bottom puts his luscious mouth to Liam's lance. The combo of man ass, and a
hot tongue, are too much for Liam. His man sap lands on Brade's tongue. Brade takes a taste and
lets some dribble out on his lips.

Let's call it right here: we've found the boy who is ready to be the pass around bottom in a BSB
gang bang. Which studs (3 minimum) should abuse Brade's hole and mouth?