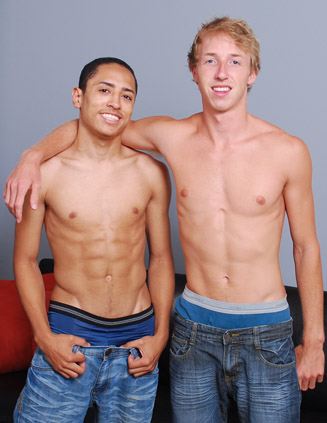 One of the pleasures here at BSB (if you allow us to toot our product), is matching a new model with
someone that has more camera experience. The fresh-faced performers are usually all edgy
energy. Sort of shocked they agreed to have man sex on film. The "pros" are all relaxed. Whatever
jitters might be around are now gone. The idea of having sex with another dude has been placed in
the "been there, done that" box.

Today's vid is a classic pro/newbie matchup. Brade is on the BSB couch again. Joining him is Tim.
Brade is all skittish smiles when the phrase "oral with another guy" is uttered.

"Heart is kind of thumping right now," Brade says.

Tim is asked if he can remember his first time, and we get his all consuming smile.

"I sort of blocked it out. I can't even remember who it was."

Both are asked to stand up, and it's hard not to to notice how similar their body types are. While
Tim istaller, both have great midsections (combined with lissome limbs). Tim's chest has more
definition, and his nipples are slightly more scrumptious. However, it's doubtful either lad would lose
bed space for cracker consumption.

Both reach over and rub their dicks through the underwear. Brade is instantly hard (just like he was
in his solo). They turn to face each other, dick to dick. As they play with each each other's puds,
their faces almost touch. The romantics in the BSBcommunity probably were looking for a small
kiss, but alas it doesn't happen. Maybe next time!

Tim hits his knees to show Brade how to make a man happy. He strokes Brade a few times then
swallows the baby maker. It's a mouthful and our blonde stud can only take about half. When the
camera zooms on Brade's face, there are no signs of discontent.

"Dude, you are better than my girlfriend," Brade announces.

The cameraman asks Tim how far down he can go; he tries to reach Brade's pubes, but that is a lot
of dick for one lad to handle.

It's time for Brade to put that pretty mouth to work. Tim sits on the couch, pulls off his underwear,
and pushes Brade's head down. The newbie is a natural to pole love.He doesn't complain when Tim
makes him down. And notice how he deep throats with more ease than Tim? Rather impressive for a
beginner.

"Suck that dick. All the way down," Tim commands, making sure Brade takes it all. Something
Brade is willing, and able, to do.

He might be tearing up, and his mouth overflowing with man juice, but Brade's dick says
everything. Look how it strains straight out. And Tim's dick has never been harder, its head all shiny
with spit.

"Do you think you can make him nut," the cameraman asks Brade.

"Depends," is the whispered answer.

After energetic sucking and jerking, Tim does nut. Some of his juice lands on Brade's lower lip and
check. He doesn't taste some of the goo….at least not on camera (smile).

Tim gets to his knees again to make sure Brade nuts also. Tim is still hard and cum drips from his
swollen shaft. Unfortunately Brade's doesn't cum on Tim's face. Instead his load lands discreetly on
his inner thigh.

"What's in store next," the cameraman ask the winded, but extremely satisfied, boys.

Both respond with tempting grins that fire up the imagination.

What should be next for these two?