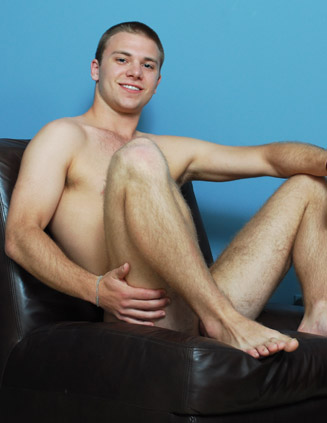 The BSB workweek starts with fresh-faced model named Kirk Cabot. He is behind in his rent, and we all know what a pain
landlords are at the end of the month.

"I'm going to pay some rent," he says to the cameraman.

Kirk is no shy fellow. Answers questions with a smile, laughs at his poses, and follows directions with ease. You'll be in love
and/or lust when he's asked to pinch his nipples, and he does it with aplomb (unfortunately those sweet looking nips are not
sensitive). While we on the topic of his chest, it has a perfect dusting of hair.

Kirk's a hockey player, which could explain why he's so comfortable with his body. His confidence about it adds a couple of levels
to his overall hotness.

After his clothes are off, Kirk plops into a chair and begins to pleasure himself. Pay close attention to the following: 1) the hair on
his legs makes them more desirable than they already are, and 2) he shares the story of his first ever jerk off session. Will not ruin
it for you, but the lad was precocious in the choice of materials.

The telling of that first nut does the trick and gets our confident newbie all excited. He's also got the right to be proud of his dick.
It's a thick club very few would turn away. It's cut and the balls look like they would fit into a mouth perfectly.

There's no hesitation when he's asked to show a little ass. Like the rest of him, Kirk's backside is first-rate beef. Not yet certain if
its open for business, but if the rent demons keep haunting him it might be possible.

After the ass has been presented to the camera, he lies on his back. Kirk is no loud moaner, but his labored breathing and curled
toes prove he enjoys the job he's doing to his member.

He looks right into the camera, eyes all sexed up. When he slaps his dick on his hairy stomach, the sound echoes in the studio and
the gods rejoice at the reverberation.

Unfortunately our time with Kirk has to come to an end. His stroking gets more intense and those thighs flex with excitement. His
spew lands just above his belly button.

Anyone interested in a return visit for Kirk? Can we even trust anyone who might say no?