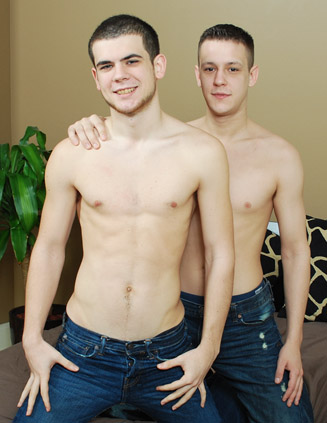 Blake Savage is back in the studio today and is in the more than capable hands of Jason. Right away, it's easy to see that both boys
have very friendly rapport with each other which promises for a great scene. Jason, always the kidder, started off by saying he was
told that Blake had great nipples, and after encouraging Blake to take his top off, Jason gave one of Blake's nipples a pinch. Jason,
undoing the button on Blake's jeans, put a smile on Blake's face when he told him to take the jeans all the way off. Blake hurriedly
complied even as Jason took off his own t-shirt and threw it on the floor. Blake's underpants soon joined his jeans in a pile on the
floor, all the while, Jason let his gaze wander over Blake's naked body. Still clad in his jeans, Jason got Blake to show off his hairy
balls, Blake re-arranging the sac in interesting shapes as Jason watched.

"Perhaps, we should get down to brass tacks?" suggested Jason as he reached over and started to play with Blake's soft cock. A
minute later, Jason stood up and quickly got naked before sitting back down next to Blake. Both boys took control of their own
cocks, pumping their thick shafts as their cocks got hard. Once Jason was ready to go, he turned his attention to Blake's semi hard
dick and as he bent down, Jason licked a long stripe up the shaft before sucking on just the tip of the dick. This was Blake's first
time with another guy and he really wasn't too sure what to think except that he knew Jason was doing a great job. Like a complete
pro, Jason has Blake panting hard almost instantly as he bobbed up and down on the thick cock. Blake leaned back against the bed
head, his eyes closed as he indulged in his own private fantasyland while he enjoyed the feel of a hot, wet mouth around his dick. It
didn't take too long for Blake's dick to get rock hard from all of Jason's talented work and as such, it was time for Blake to return the
favor. Settling back against the bedhead, Jason gestured at his dick even as Blake leaned over and opened up wide. With a hand
wrapped around his own cock, Blake slowly slid Jason's dick in and out of his straight boy mouth. While Blake may have been new to
cock sucking, there was no doubt that Jason was enjoying the treat. As he got used to the taste and feel of a cock in his mouth,
Blake got a little daring as he tried licking up and down the thick shaft. Much to Jason's appreciation, Blake even tried swirling his
tongue around the head of his dick. Blake ended up with a sore neck for his efforts but that simply signified that it was time for
Jason to kick it up a notch.

As Jason got himself prepared by rolling on a condom and lubing up his dick, Blake couldn't help but laugh at Jason's talk of going
after the 'cherry'. Despite his nerves, Blake rolled over onto his stomach and spread his legs, ready to lose his cherry. Kneeling in
between Blake's thighs, Jason slowly worked his cock into Blake's ultra tight ass. Once all the way in, Jason set a sedate pace as he
allowed Blake to get used to the feel of a dick up his virgin ass. Blake gripped the mattress, a grimace across his face as he
struggled to decide if he was feeling more pleasure or pain. Jason sped up a little, his balls smacking into Blake's ass on each thrust.
Leaning forward, Jason was caught up in the moment and gave into temptation, kissing Blake between the shoulder blades and
along his neck before nibbling on his ear. Letting his dick slide all the way out, Jason hopped off in order to let Blake roll over onto
his back so that they could try a position that would be easier for Blake. With his legs spread wide, Blake groaned as Jason thrust
back in and started to ride his ass deep and hard.

Speeding up, Jason set a steady pace even as Blake jerked himself off. By now, both boys had worked up a heavy sweat and it was
only a matter of minutes before they both shot their loads. Blake was getting his ass pounded by a complete pro, however, was
finding the new position much easier as he was feeling jolts of pleasure on every thrust. Jason was banging Blake so hard, Blake was
in danger of being pushed off the bed entirely. A moment later, Jason pulled out, ripped off the condom and started wanking. Only
seconds later, Jason's cum sprinkled over Blake's stomach, hip and dick. Leaning back, Blake concentrated on getting off even as his
hand flew up and down his cock shaft. As Jason watched, Blake shot cum over his stomach and treasure trail.