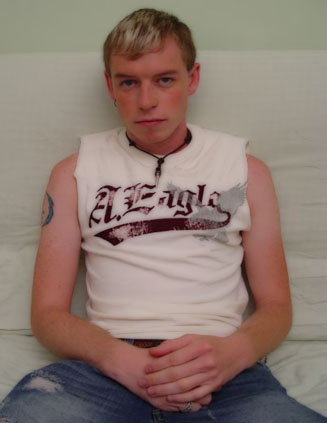 Todd Hunter stopped by to do a shoot and he is 22 years old. Right away I picked that he had some kind of an accent to his voice, so I found out that he was from California originally. Todd moved to Florida three years ago and he likes the people in Florida more. I explained that we would be doing a casting couch to see how well he does, in order to have him come back to do more shoots with us. He said that he was down for it and I was interested to see what his body looked like. Starting with his shirt he peeled it away to show a farmer's tan, and I could tell that there was a tattoo on his lower stomach. Taking off the pants he was wearing some tighty-whitey's underneath and I could make out the outline of his cock.

Todd took out his dick and it was soft and limp and offered him some lube so that he could get started. He doesn't have a girlfriend so he would get off three or four times a day. He had shot a load early that morning and I hate that and tell them not to do that because of course I want the best load for us. I told him to take off his underwear so that we could get a better look at what was underneath. It looked like Todd was comfortable and was getting fully hard and was around 5 to 6 inches. Todd didn't want a video to watch, so for him I could tell that he was going off of excitement to be doing this. I offered him an extra $100 to try a dildo in his butt or to suck on it. He wouldn't go for it and said that it wasn't worth it, and he said that he didn't do stuff like that.

Since he wouldn't give the dildo a try I asked him if he would give me a shot of his ass so that we could see what it looks like. He didn't move a whole lot to give me a good shot, he just put his leg over the back of he couch. I lowered the camera in for a closer look, and he was fairly smooth down there, some hair around the butt hole but that always can be shaved. Todd jerked off with his eyes shut and I am assuming that he was in a fantasy of his because he stayed hard and even started to fuck his hand for a while. I moved in for a close up of his face and his lips were slightly apart and to myself I just thought of how nice a dick would look in his mouth. Gently working it's way into it, but that was not going to happen so I needed to get off of it.

When Todd started to make some noise after way into the shoot I knew that we were getting closer to the money shoot and an orgasm was going to be coming. His hand continued to move at about the same speed, and his thighs were pushing his dick up in the air. He got quiet again and so I figured false alarm, and a while of him jerking off before he started to pump a little faster. I moved in again for the shot and he was silent before I heard him say that he was going to cum. When that happened Todd came over his hand and it dripped out. Unfortunately, that is what happens when guys jerk off too close to a shoot but it stilled looked really good, since I was able to get the camera so close. His hand had cum all over it, and he said that he had a good time. I figured that we would try and match him up with someone else the next time and I explained how it would be a surprise. He would make $500 the next time he would come in for a shoot, and so who knows if this guy will be back.