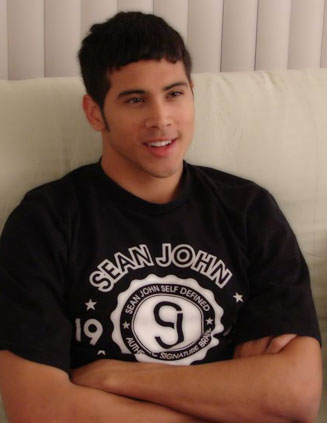 Mauricio is here to do a shoot with us and he has appeared on a couple of sites, and he has been very popular with Mauricio and Vinny. Mauricio is a straight guy that fell for Vinny and they had a whole relationship that was caught on tape, however they recently separated and he is looking to go towards girls now. He was confused for a while and would like to change his ways to do a shoot and be with girls. He changed up his hair, and was looking forward to doing a shoot. Mauricio has been taking a break for a while with people because of the relationship factor and now he is ready to jump back into things and see what happens.

I had Mauricio start with taking off his shirt so that we could get a good look at his body and seeing what he looks like. Right away, I was able to tell that he was in great shape, a good tan, and some hot tattoos. He undid the pants and slipped his hand down inside to get his hand warmed up. Then, taking off the shoes he was able to proceed with the shorts. I told him that I was going to put on straight porn and he got down to being naked. We talked about how big Mauricio's dick was and it had been a while since he last measured. Personally when he got hard, I thought that he was around 10, or 10 an a half. Mauricio is very good at putting on a shoot and teasing the camera.

I had Mauricio get up and show his ass to the camera. Plus, he spread up his cheeks to show his ass hole that looked very hot. Laying down on the couch he got more comfortable and started to jerk off. He slapped his dick against his stomach and just smiled at the camera. I asked him if he would let a girl play with his ass and he said that he would be down for that. He even would probably enjoy it, and I asked him to finger his ass a little bit. The moaning started really load and Mauricio starred into the camera. Touching his balls, rubbing his chest, and sticking out his touching all looked very hot as he was trying to have an orgasm. He concentrated on the porn on the TV and his legs would shake as he jerked off. He brought his head up as he was having his orgasm and slowed down right as the first shot of cum came. The second shot of cum was the biggest making a line on his stomach and then he was able to get one more shot of cum out has well. Mauricio was out of breath from all the jerking off, and he said that he is known for having big loads. I look forward to having him back again for another shoot and who knows who it will be with.