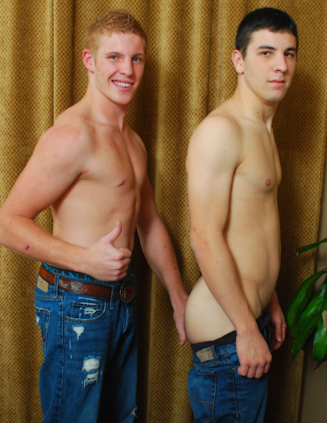 The lucky boy who is going to be popping Scott's cherry is Connor. Even though he had a wry grin on his face, there was no doubt
that Scott was as nervous as hell, likewise with Connor as Scott was going to be his first ever virgin. As Scott and Connor stood up
and started stripping down to their underwear, Connor, by his own admittance, said that he had some very bright underwear that
his girlfriend wanted him to wear in one of his scenes. Unusually, Connor's girlfriend likes to watch her guy go at it with other guys.
On the bed, side by side and still clad in their boxers, Connor and Scott massaged their cocks through the material of their undies.
Only a few minutes later, their cocks rock hard, Connor asked if Scott was ready to get the show on the road, to which Scott readily
agreed.

Scott leaned over and slid the rosy red head of Connor's dick between his straight boy lips. With his hand wrapped around his own
stiff dick, Scott slowly bobbed up and down over Connor's cock. Right away, it was easy to see that Connor was loving the blowjob
but decided to help him out by pushing down on the back of Scott's head. It wasn't long before Connor, in a cheeky mood, asked
Scott if he was any good at deep throating, and suggested he give it a try. Like a trooper, Scott was up for anything and with a big
gulp of air, not to mention Connor's help, Scott managed to swallow down every inch of the big dick. Scott even managed to
surprise himself when he was able to slide every inch down his throat a second time without choking. Every now and again, Scott
gave his own cock a couple of tugs even as he licked up and down the dick staring him in the face. Despite how much he was
enjoying Scott's efforts, Connor could still tell that Scott was new to having a dick in his mouth. However, it was now Connor's turn
to pass on a few new tricks. Scott sat back against the head board of the bed while Connor leaned over his lap and began working
hard on Scott's dick. In less than a minute, Connor had Scott moaning for more as he slid the dick in and out of his hot, wet mouth.
Jerking himself off, Connor made sure to swirl his tongue around the head of Scott's dick. Even though Scott's face had a look of
pure bliss stamped over it, I just had to ask how Connor was doing and it was no surprise when Scott said that he was doing pretty
good. All too soon, it was time for Scott to get his cherry popped.

While Connor was getting himself prepared, Scott got down on his hands and knees on the bed. However, Connor wanted to make
sure everything was going to go as smoothly as possible for Scott so handed him the lube and told him to use some. Hint taken,
Scott reached around behind and massaged the lube into his ass hole before handing it back to Connor. Shifting down onto his
elbows, Scott said that there was only one thing running through his mind; that he was about to lose his virginity. Condom rolled
on, Connor slid his dick into the tight, virgin hole and started to gently pound the cherry. Rolling his hips, Connor thrust in and out
as Scott groaned at the new sensation. A particularly slow yet hard thrust had Scott wincing in discomfort even as Connor reminded
him that he shouldn't be clenching. Scott was definitely one of the quieter boys when on set and Connor joked that he was a bit
suspicious that Scott had done it all before because he was so quiet. However, Scott was quiet because he wasn't quite sure what to
make of the feel of another guy's dick all the way up his ass.

Soon enough, Scott was moaning in pleasure as Connor worked his cock in and out of the tight ass. Connor told Scott to arch his
back, speeding up his thrusts as Scott got used to the feel of dick. Reaching underneath himself, Scott started to jerk himself off as
Connor thrust in harder and harder. Giving the camera a thumbs up, Connor suggested that from the way Scott was moaning, he
might just be like getting fucked. As Connor slipped out to get another condom, Scott reached around and spread his ass cheeks so
that I could get a good shot of his well fucked hole. With the new condom rolled on, Connor slid back home in one go and set a
cracking pace. However, Scott's knees were getting sore so I told the boys to flip over. Concentrating on his breathing, Scott held his
dick out of the way, Connor making the bed squeak and creak as he pounded the tight ass. Scott spread his legs a little wider as
requested by Connor and to his surprise, he found that Connor was now hitting a certain spot that was making him feel pretty good.
Grabbing his cock, Scott started to jerk himself off even as Connor rode him hard. It only took a few hard pumps and Scott shot his
load all over his well toned stomach, all the while, Connor kept fucking him. Connor pulled out and rolled off the condom, Scott
taking the opportunity to show off his freshly fucked hole. Straddling Scott's thigh, Connor jerked himself off at a furious rate, cum
spurting over Scott's stomach and into his belly button.