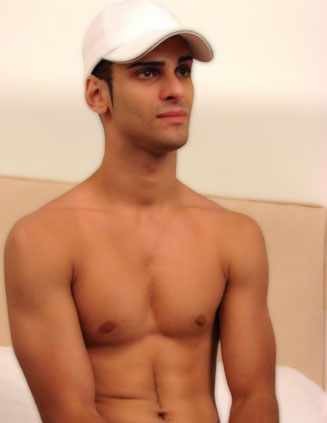 Things were kind of slow in the office and we weren't getting a lot of calls or guys coming in for shoots, so I sent my assistant Steven out to see if he could find anyone to do some shoots. While he was out at a local mall he came across this guy, Ganador who was the type of guy that we were looking for. Steven explained what it was that he would have to do on camera and that he would get paid right after he did his shoot. He took a business card from Steven and said that he was going to go to his girlfriend's house, but he would think about doing a shoot.

Sure enough, about a week later Ganador gave us a call to come in to do a shoot and of course we were a little surprised that it happened. When he got to our office, I answered the door and he was standing there without his shirt on and I thought to myself, "oh my!" Ganador had some nice muscle definition going on in his upper body with his chest, arms, and stomach. He came in and took a seat and when we started talking I realized that he had an accent. He said that he was from Australia and was here to go to school, and he does what it takes to make some money. It was Ganador's first time in front of the camera, but he made it clear that he is not shy. He said that he was single and liked to sleep around with lots of girls not committing himself to a relationship. He likes to go dancing at clubs and wakeup in someone else's house.

Starting with the rest of the clothes, Ganador took off the shirts and peeled away the underwear giving us a little striptease. When the briefs came off a semi hard boner was underneath. He positioned himself on his knees and I moved around him to get a couple different angles including an ass shot. Ganador's body was really hot but he was quiet as he sat there on the bed jerking off. This yummy boy looked great on the bed and was putting on a nice show. I thought to myself that it would be good to see what he would look like fucking another guys or getting blown by another dude. However, it might take some money for that to happen.

Ganador concentrated on what he was doing and it is always a sign that when people get close to cumming they will let you know. Moans started to come from him, and I was getting ready for the shot. However, it seemed to be a false alarm and he changed positions getting on his knees doggie style. I got in behind him for a shot at getting his butt and asshole. The dirty thoughts kept coming to my mind. He rolled over on his back and the deep breathing continued so I knew to stay ready for him to blow his load. He kept changing positions on me to find the right one that would make it all happen. When he was back to the starting position I could see the precum that was on the tip of his penis. Load moans started to come from Ganador as he shot his load out on the bed. It was thick and white in color that stood out on the purple blanket. Ganador did a great job and I look forward to seeing if I can get him in here to do a duo shoot for more money of course, so for now you will have to keep watching.