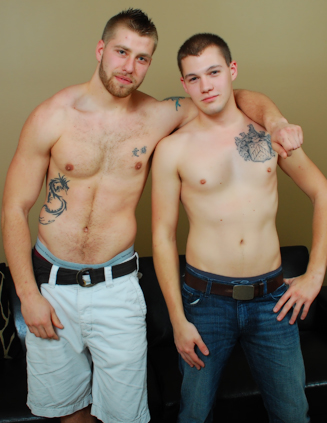 Since the last time we saw Cliff in front of the camera, he has joined a car club in which people compete to have the best looking car while Chad has been busy at the refreshment stand at the movie theatre. Cliff has come back to Broke Straight Boys as he is tired of living in his car and occasionally staying at his friends house overnight. Anyhow, Chad's face said it all when he learned that Cliff's dick was a good 11 inches in size. The boys stood up, Cliff, who stands at 6' 4", looking like a Viking as he dwarfed Chad.Taking off their tops, the two boys revealed tattooed upper bodies, Cliff being quite hirsute compared to the very smooth Chad. Cliff then took off his shorts and undies off, leaving himself completely naked while Chad looked on, somewhat bemused by what he was about to be handling in a very intimate way. Chad couldn't help but stare at the monster dick between Cliff's legs, saying it was going to be the biggest dick he had ever taken so far, making Cliff laugh. As Cliff watched the porn and jerked himself off, Chad wondered aloud if he could deepthroat all 11 inches. I just had to go in close for a good look at Cliff's monster.

It was time to get the show on the road so I told Cliff to lean back, and with a cheeky grin on his face, Chad immediately wrapped a hand around the thick cock. Cliff concentrated on watching the straight porn as Chad slowly pumped the rock hard shaft and gently rolled the heavy balls. Leaning over, Chad opened up wide and started sucking on the very tip of the monster dick. Slowly but surely, he ensured that he got every inch of the cock wet as he licked up and down the long shaft. It was easy to see that, despite his usual confidence, Chad was more than a little intimidated by Cliff's girth. As Chad worked to get used to the size in his mouth, Cliff said, that as long as his eyes were closed, Chad's blowjob felt just like a girls. Cliff, however, couldn't help but chuckle a bit as he tried to get used to a guy giving him a blowjob. I told Cliff to help Chad out a little, so Cliff gently pushed down on the back of Chad's head, forcing him to go almost all the way down.

Switching things around, Cliff lay down on his back, legs spread as Chad knelt beside him on the floor. Lavishing the heavy balls with attention, Chad licked up and down the thick shaft before swirling a tongue around the wide head. Chad bobbed up and down as he worked hard at the blowjob. Every now and again, Chad had to come up for air, fisting the cock as he did so. Nuzzling the balls, Chad tried to go deep again, helped out by Cliff. However, even Chad's eyes watered as he got almost all the way down, bar the last few inches. Still, despite the difficulties of Cliff's size, there was no doubt that Chad relished having a dick in his mouth. I told Cliff to give Chad a couple of slaps across the face with his cock, Cliff grinning and instantly obliging. Grabbing his dick, Cliff gave Chad a volley of hearty slaps on the cheek before dipping his cock in and out of Chad's mouth. By now, it was obvious that Cliff was enjoying the blowjob as he was twitching every few seconds and starting to breathe heavily.

Sucking on just the head, Chad gave his usual lusty glance towards the camera. Chad may have said that Cliff's dick tasted like any other dick but there was a definite sparkle in his eye as he said it. Cliff stood up as Chad slid to his knees infront of him. Sliding the cock in and out of his very experience mouth, Chad worked hard on giving Cliff a blowjob he will always remember. Chad played with the big balls even as he sucked on just the very tip of the dick before licking up and down the long shaft. I told Cliff to give Chad another couple of slaps with his dick, Cliff grinning at the suggestion. Chad stuck out his tongue, panting heavily from all his hard work. With a firm grip on his dick, Cliff slapped the thick head down hard on Chad's outstretched tongue before teasing him by tracing his cock around Chad's mouth. By now it was easy to see that Cliff was getting close to cumming as he couldn't help but glance down every now and again as Chad worked his cock like a complete pro. At my suggestion, Chad gave deep throating another try. Along with Cliff's help, Chad slid the thick cock all the way down his throat except for the last half inch.

By now, Chad was almost out of breath and Cliff was ready to show off his cum shot. Chad sat back on his heels while Cliff wrapped a huge hand around his shaft and started to jerk off in earnest. Breaking off for a bare instant to lube up his cock, Cliff wanked off at a furious pace. With a quick word, Cliff indicated he was ready to cum so Chad opened up wide and stuck out his tongue, Cliff dribbling cum onto it and down his chin a moment later. Giving Chad a couple of hard slaps across the face with his cock to finish up, Cliff stuck his cock back in Chad's mouth so that Chad could lick it clean. Always willing to oblige, Chad sucked every last drop of cum off the thick head and long shaft.