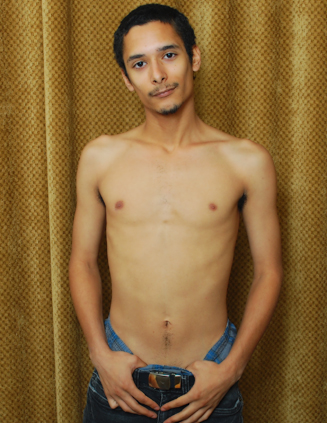 Broke Straight Boys is very pleased to introduce Tomas, a young man that I happened to meet at a bus stop only the day before. He
is an unemployed student in desperate need of some quick cash, hence, his appearance at BSB. Tomas is 20 years old, not quite old
enough to go to the bars so he likes to listen to a lot of music when he is not studying and is particularly fond of the Harry Potter
movies. When he's not indulging in his pastimes, he is studying Psychology and wants to work with some major companies in their
personnel departments. As for right now, Tomas was looking to get naked and start paying some bills.

Standing up, Tomas started stripping off his clothes, dropping them onto the floor as he revealed a slim, twink type of body. His
best feature, apart from his dark hair and eyes, was his long dick nestled in a crop of dark curls. Hopping up onto the bed, Tomas
got comfortable on his knees and slicked up his cock with some lube. Although he was a little shy, it didn't take long for Tomas to
get into the swing of things as he slowly slid his hand up and down his long shaft. As Tomas leisurely wanked himself off, he
watched some straight porn just off to the side of the camera. Speaking of camera's, Tomas couldn't help but glance every now and
again towards it, unsure of how he felt by being filmed.

Reaching around behind, Tomas massaged the strip of skin between his balls and ass, eliciting a moan of pleasure as he fisted his
dick. I suggested that he show off his ass and without hesitation, Tomas turned around and got down on his hands and knees,
displaying his virgin ass for all to see. Looking back at the camera, Tomas rubbed a finger over his ass hole before taking his cock
in hand and jerking himself off through his legs. By now, Tomas was panting in pleasure even as he started to fuck his fist, his hips
rolling back and forth as his cock got harder and harder. Licking his hand, Tomas lubed up his dick and renewed his wanking in
earnest before reaching back behind and lightly fingering his ass hole. In a daring move, Tomas slid two fingers into his virgin ass,
slowly driving them in and out. There was no doubt that Tomas was enjoying the feel of his fingers as he indulged in self
gratification. Grabbing hold of his cock again, Tomas panted heavily as he kept fingering himself even as he wanked off.

Only moments later, he turned over onto his back. With a dollop of lube, Tomas slicked up his thick cock and started to fist his dick
in earnest as he chased an orgasm. His hand flying up and down his shaft, Tomas couldn't help but run his hand lightly over his
body as he got closer to cumming. Holding the base of his dick tightly, Tomas' hips rose up and down ever so slightly as he was
tempted to fuck his fist. Looking at me, Tomas, with a shy smile, confirmed that he was close to cumming and as such, put in some
hard wrist action. Suddenly, as Tomas' toes curled in ecstasy, cum shot high in the air before spattering down onto Tomas' upper
body and almost everywhere else. It had been one the biggest loads ever seen on BSB. While Tomas might be shy and inexperienced
in regards to the porn world, I'm pretty sure that Tomas will be back in the new future.