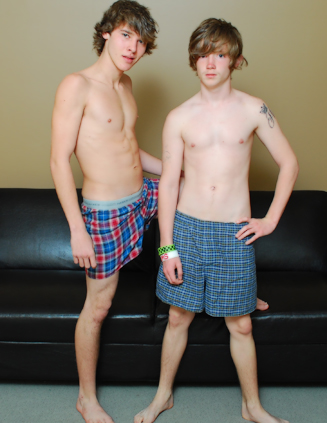 Kodi and Mitch, two of the youngest models at Broke Straight Boys are going to be doing some fucking today. Mitch is a very lucky boy who will be getting fucked by the ever confidant Kodi. There was little chit chat as the two boys stood up and stripped off, Mitch only wondering how Kodi got naked so fast when he was struggling with his jeans. Once both boys were starkers, they sat down next to each other and with dicks in hand, they worked on getting their cocks rock hard. Pausing only for a brief moment to apply some lube to their stiffening shafts, it was easy to see that Kodi and Mitch had a pretty good rapport with each other. Only mere minutes later, there were two very stiff dicks in the room and as such, Kodi took control of the situation by deciding to suck cock first.

Leaning over, Kodi took hold of Mitch's cock and slowly slid the hard shaft down his throat. With a hand on the back of Kodi's head, Mitch gently pushed down, hinting for Kodi to take it all in. Right away, Kodi looked like he was familiar with the feel of a dick in his mouth as he turned his head one way and then the other. Mitch was panting in delight as he enjoyed the feel of a hot, wet mouth surrounding his cock. Going down a little further, Kodi gagged but nonetheless, kept working hard even as he shot sultry glances towards the camera as it went in for a close up. As he was loving his blowjob, Mitch decided to reward Kodi by reaching around and jerking him off, making Kodi's big balls jiggle. Every now and again, Kodi pulled off and teased the tip of the cock with his tongue before diving back down. As Kodi came up for air, Mitch decided it was his turn to suck dick and immediately twisted around and got a handle on Kodi's cock. Right away, it was clear that Kodi was a 'talker' as he told Mitch to 'suck that cock' and that it felt so good. Mitch bobbed up and down on the big dick even as he wanked himself off. There was a hint that Mitch may have been practising his cock sucking at home as he was comfortable with having a dick in his mouth. Kodi was moaning in pleasure as Mitch worked his magic. With his fingers tangled in Mitch's shaggy hair, Kodi pushed down slightly, hinting for Mitch to go deeper on the dick. All too soon for Kodi's liking, it was time to get down to the nitty gritty.

Mitch and Kodi got themselves ready with the lube and condom, Kodi sitting spread legged on the couch and slicking up his cock. In an extremely bold move, Mitch decided that he would ride Kodi's cock to start off with and straddled Kodi's lap before slowly lowering himself down onto the thick shaft. Kodi instantly groaned in delight as he felt his dick going all the way up Mitch's ass and gripped onto Mitch's hips as he began to slowly ride him. Panting hard, Kodi rolled his hips up and down, fucking the tight ass from below and making Mitch moan like a bitch. Kodi sped up, fucking Mitch so hard that Mitch was made to grip onto the couch for dear life in fear of being thrown to the floor. There was absolutely no doubt that both these boys were loving their first foray into fucking another guy.

"I love that tight ass!" moaned Kodi, fucking Mitch with everything he had, all the while, Mitch panted and begged for more. Switching it around, Mitch got down on his elbows, his knees resting on the arm of the couch as he waited for Kodi to drive his dick home. Standing behind Mitch, Kodi took hold of his dick and directed it into Mitch's ass again. As Kodi began to pick up the pace, Mitch rose up onto his hands and started to jerk himself off. Swinging back and forth, Kodi's low hanging balls slapped Mitch's ass. Soon enough, Kodi was going full place as he fucked the tight ass and proving himself an aggressive top, all the while, Mitch was obviously enjoying the feel of the dick in his ass. Suddenly, without warning, Mitch sprayed a great puddle of cum onto the sofa seat. Pulling out and ripping off the condom, Kodi grabbed hold of his dick and started to jerk himself off in earnest and only a minute later, he shot cum all over Mitch's ass.