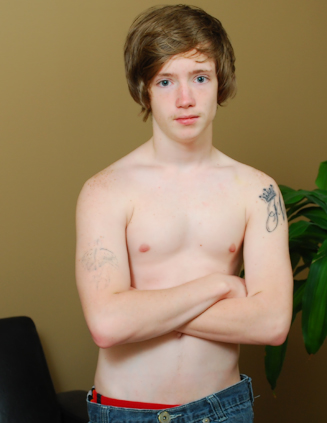 The latest boy to grace the studio at Broke Straight Boys is Mitch, whom I got to know through a friend of mine. This cute little 18 year old twink, from Atlanta in Georgia, is in desperate need of some quick cash so he can purchase a car. As I chatted with Mitch, helping him feel a little more at ease, Mitch revealed that the craziest thing he had ever done during sex was to have a threesome with his girlfriend and another girl he knew, videotaping the whole thing. Standing up and stripping off, Mitch revealed a pale, lithe body that was decorated by a smattering of freckles along his shoulders. A few quick pumps of lube and Mitch sat back down and got to work.

The shaggy haired boy leisurely stroked his hand up and down his long cock until he was rock hard, shooting the occasional glance towards the camera. Eyes closed, Mitch was off in his own private wonderland as he jerked himself off. Every now and again, as he slid his hand along his shaft, Mitch would gather his tight balls in the same hand and give them a quick roll. Mitch knelt on the sofa, slightly to one side. Rubbing his hand along the back of his neck, Mitch panted as he massaged the lube the length of his dick. By now, Mitch was getting into the rhythm of it all and no longer seemed so hesitant towards the camera, instead, he was now embracing it's presence. At my suggestion, Mitch sprawled wantonly on the sofa and kept jerking himself off. Moaning in pleasure, Mitch flashed a grin towards the camera as he admitted that he was feeling pretty good.

I told Mitch to show off his ass hole so he scrambled to comply, throwing his legs out wide and holding up his dick and balls. As I zoomed in with the camera, Mitch began to stroke a finger back and forth over his hole, panting heavily as he got more turned on. Mitch wrapped a hand around his dick, wanking himself off but continuing to dip a finger down to his hole, obviously getting off on the light touching. By now, it was clear that Mitch was almost ready to pop his load as he was putting in some heavy wrist action. With sweat dotting his brow, Mitch was well into the home stretch. His hand flying up and down cock shaft, Mitch spurted over his upper chest, the cum dribbling down his torso to his closely cropped thatch of pubes.

As Mitch, with a wide grin, said that he had enjoyed himself during his solo jerk off session, there is a good chance that he will be back in front of the camera very soon, so make sure you watch out for him in the updates. Look out for him in the future!