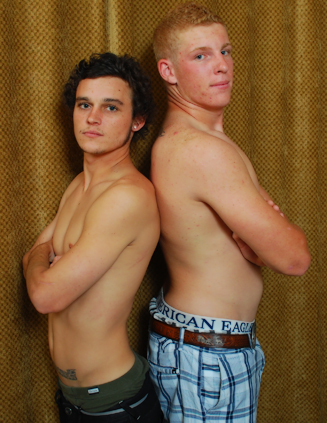 The ever popular Bobby and Connor are in bed together today. They were relaxing with their shoes off and I couldn't help but stare at how big Connor's feet were and of course, I just had to know what shoes size he wore. Obviously used to getting this question all the time, nonetheless, he rolled his eyes while stating that he wore a size 13 shoe. Connor decided that while he was in town for a Toby Keith concert, he may as well do a little Broke time. As for Bobby, he has been raiding my fridge while he has been working at the studio. As Connor is going to be topping Bobby, I said that Connor might as well take the lead as the height and weight difference between the two boys meant that Connor could literally pick Bobby up and toss him around the room, so it was going to be an interesting shoot. It was time to get the show on the road so the two boys stood up and stripped off. Once back on the bed, Connor and Bobby jerked themselves off, getting stiff in record time, before reaching over and taking their partners cock in hand and putting in some hard wrist action.

After a couple of minutes, Bobby leaned over and slid Connor's hard cock deep into his straight boy mouth. Connor immediately groaned in appreciation even as he lightly stroked Bobby's shoulders. Challenged by Connor to go deeper, Bobby, never one to back down, got almost all the way down before he gagged a little and had to pull off. Still, like a complete pro, Bobby went right back to work on the long cock. Bobbing up and down on the hard dick, Bobby paused every now and again to pump the shaft. Opening up wide, he was able to swallow all of the cock without choking, a definite first for Bobby. There was no doubt that Connor was enjoying every moment of his blowjob, especially when Bobby decided to flick his tongue around the very tip of his cock. All too soon, it was up to Connor to show off his skills. While Bobby sat back against the headboard, Connor settled on his side and wrapped his lips around the hard shaft. Even as he jerked himself off, Connor lavished Bobby's dick with attention. Bobby was loving the blowjob so much, he couldn't help but gently face fuck Connor who just took it all in stride. Relaxed, with his hands behind his head, Bobby was moaning in delight as Connor worked his magic. Once Bobby was relaxed enough, he decided that he was ready to get pounded by the 6' 2" Connor.

Laying on his front, Bobby grunted as Connor, straddling Bobby's hips, drove his dick into the tight ass. Reaching back, Connor held his balls out of the way so that there was a good shot of him pounding Bobby's ass. Rocking back and forth, Connor dipped his dick in and out, all the while, Bobby groaned and panted from the feel of the big dick deep in his ass. Alternately going fast and then slow, Connor rode the tight ass like he was at a rodeo. Connor asked Bobby how it felt but Bobby, still groaning, replied that it didn't feel that good. Flipping things around, Connor decided to test out Bobby's claim that he was flexible. On his back, Connor held onto Bobby's ankles even as Bobby arranged himself into a position that has never been seen on Broke Straight Boys before. As odd as it was, Bobby was still able to fuck himself on Connor's big dick. Holding his own dick out of the way, Bobby bounced up and down, impaling himself on the thick cock. It was a strenuous position and Bobby quickly tired so Connor took over, pumping his hips and driving his dick deep into Bobby, both boys panting from the effort.

Leaning forward, Bobby took the reins and fucked himself on Connor's cock. Riding hard and fast, Bobby was now moaning in pleasure even as Connor groaned with delight from the feel of a tight ass around his dick. Wanking himself off, Bobby was putting in some hard wrist action and it wasn't going to be long before either he or Connor popped their rocks. Panting faster and harder, Bobby's hand flew up and down his shaft and a minute or two later, he sprayed cum all over Connor's stomach and ribs. Kneeling in between Bobby's spread legs, Connor took his own cock in hand and jerked himself off at a furious rate before cum shot onto Bobby's stomach and into his pubes.