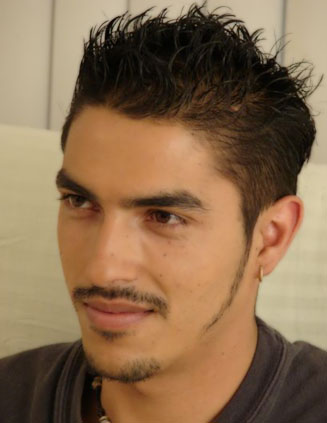 Angel is back for another shoot and I explained that he would do this shoot and then if it went well I would have him come back to do a shoot with a girl. As he stood up to take off his clothes I quickly explained that I was having a busy day and so another model was going to be coming by. Sure enough my assistant showed the other model into the room and Mario took a seat on the couch next to Angel. Right away, Angel insisted that he was straight and Mario said the same thing and didn't want anyone to think otherwise.

Mario got undressed to catch up with Angel, and when they got completely naked they started to jerk off. I asked Angel if he would let Mario jerk him off if I gave him some extra money. He said that it was ok, and both guys ended up reaching over to help the other one out. I only gave them a short time jerking each other off before I asked Angel if he would suck Mario's dick for an extra $300 and to my surprise I got an ok. Angel moved a little closer on the couch to Mario taking his cock in hand and lowering his mouth down on it. Sitting back Mario started to enjoy getting his cock blown and had a smile on his face. Angel on the other hand seemed to have a very wet mouth and kept going up and down with his mouth. After a while I had them switch it up and Mario bent over to service Angel's cock. I could tell that his was his first time getting serviced by a guy and he was enjoying it.

In the heat of the moment I wanted to keep the shoot going. So, I had made a comment about how hot it would be to see the two of them fuck. Of course, this grabbed their attention and they stopped what they were doing and Mario's reaction was that he wanted more money. We got to bargaining over how much they wanted to try it, and once we settled on an amount we were good to go. However, when it came down actually doing it Mario getting fucked he chickened out at the last minute and so we had to go to plan B.

The two guys sat down next to one another and Angel gave Mario head for a while. Then, Angel put some lube in his hand and jerked off Mario. The jerking slowed down and Mario needed more lube if he was going to get off. It was after a few minutes that Mario took a deep breath in and as he let it out a moan the first shot of cum came out. Mario came as he was excited to finish. Angel had a big smile on his face knowing he did a good job.

Angel on the other hand was so tired he kept telling me off camera that he didn't know if he was going to be able to finish. Of course, I was very disappointed because everyone wants to see cum when they watch a shoot. He went to the bathroom for a while to see if he could get closer to cumming. He returned after about 10 minutes and said that it just was not going to happen. So, then we wrapped up the shoot and I explained that he would have to in the next shoot or otherwise I wouldn't be able to continue to use him. Overall it was a good shoot with lots of hot moments.