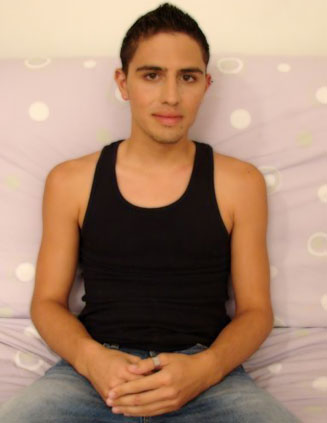 Mario is a 20 year old straight guy who recently broke up with his girlfriend. He is a roofer for a local company in Florida and with all the rain his work had been a little slow. I explained to Mario that this was a paid interview and that all he had to do for us was just jerk off. Then, from there I would have him come back to do some more work for us in the future if this shoot went well.

Starting with his shirt, Mario took it off and he could see that he had some muscle tone in his upper chest. So, I asked him how much he worked out and he said that roofing lately has only been his source of working out. This was his first time jerking off on camera, and I told him not to worry that it is a easy. I turned on a porn for Mario to watch and he was set and ready concentrate on jerking off.

Once Mario was able to get hard, his cock was huge and took up the grip of his hand. Getting down on the floor in front of him I got a great chance to look up his body from legs to head. He has a smooth chest and light hair on his legs, with a lean body build, a couple of ear piercings, and he neatly trimmed pubic hair. Sitting there on the couch he moved his head back and forth a little bit and seemed to get into the porn. Mario even found a part of the porn that he liked and made me rewind it so that he could watch it again.

Letting out some grunts and moans he came on his stomach, and it was a good size load. The consistency was thick and creamy in color and looked like he had saved up for a day or two. I look forward to having Mario come in for more work in the future and it seems like we may be able to get him to do some more stuff on camera for money.