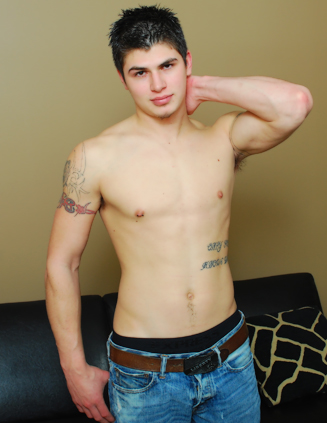 The new young hottie with dark hair and eyes is Jacob. I knew of him a few years ago via another model I was filming at the time but Jacob wasn't too interested in being in front of a camera back then. While his buddy has had the misfortune to end up in prison, Jacob has his head screwed on straight as he is looking to make extra money in order to get out of a bad living arrangement, thus, his solo appearance on Broke Straight Boys. As Jacob is single, without children, he is looking to get his own place which means he could be appearing on BSB a few times in the future. Blushing, Jacob admitted that because he was single, it had been while since he had last had sex that wasn't a one night stand.

Standing up, Jacob started stripping off his clothes, revealing a toned, muscular body that was decorated with numerous tattoos. I got in close so that there was a better shot of some of his tattoos, Jacob turning around to show off some antlers tattooed across his shoulder blades even as he slowly slid down his black long leg undies. Jacob moved back to the couch, sitting down and leaning back against the arm rest as he played with his cock. I asked him what his favorite porn was, Jacob answering that he preferred straight hard core doggy style. With his favorite porn playing, Jacob put in some hard wrist action and it wasn't long before he was rock solid.

Already panting from his efforts, Jacob looked directly into the camera as his hand slid up and down the thick shaft. Pausing for only a moment to show off his cock to the camera, Jacob went right back to work as he chased his orgasm. When Jacob stood up, it allowed me to get right in close to his nicely shaped dick, Jacob panting all the more as he decided that a camera in the room was turning him on more than he expected. Even though he was watching the porn that was playing intently, Jacob couldn't help but keep glancing down every now and again as if mesmerised by the sight of his dick thrusting back and forth into his fist. Without skipping a beat with his wanking, Jacob turned around and knelt on the sofa, his legs spread just enough so that you see his dick between his legs.

Shoving his dick back through his legs as requested, Jacob, by now, was sweating from all his hard work. Another moment later and he pushed his dick all the way back, showing off his balls and cock. Jacob was close to cumming and as I didn't want to miss his cum shot, I told him to sit back down. Settling himself on the couch, Jacob started wanking off in earnest as he got closer and closer to cumming. His hand flying up and down his thick cock, Jacob was almost out of breath when he finally came, the cum dribbling down his shaft and hand before coating his dark cropped pubes. The final word from Jacob was that the whole experience had been great so I'm hoping to get him back on the couch in the not too distant future.