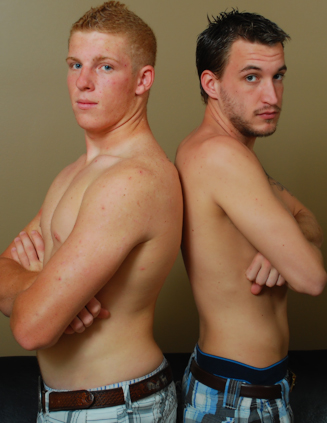 The always popular Colin and Connor are in the studio today. Although Connor wasn't too keen on coming back into the studio, we were able to work out an arrangement where if I came to a truck pull with him one weekend, Connor would come back and do another few videos. As it went, I had a really fun time so that means the members at Broke Straight Boys will be having a fun time as well while they watch Connor and Colin perform together. Connor had previously stated that while he liked the money he made at the studio, the issue of hairy butts sometimes made it difficult for him to perform at his best. Luckily for him, Colin isn't really hairy. The two boys stood up and took off their t-shirts, their shorts and undies quickly following. As Connor and Colin watched some straight porn, they worked on their cocks but it wasn't long before Connor offered to help Colin out.

Leaning over, Connor swallowed down Colin's thick dick, his head bobbing up and down even as he jerked himself off. Right away, it was easy to see that Colin was in 7th heaven from the feel of a hot, wet mouth surrounding his cock. Experimenting a little, Connor licked up and down the long cock while Colin just sat back and relaxed into it. Connor was getting better at sucking cock, even taking some gentle face fucking in stride. Colin was too turned on for the blowjob to last much longer so he told Connor it was time for the favour to be returned. Connor just grinned and let Colin work his magic. Colin, no stranger to the taste of cock, went deep right from the start, much to Connor's pleasure. However, when Connor challenged him to go all the way down, Colin didn't hesitate, making Connor groan out loud. Despite choking, Colin went right back to work, pulling off only for the time it took for Connor to manoeuvre him onto his knees on the floor. Holding Colin's head still, Connor took control and did a little face fucking of his own. 'Slap it on my tongue!' demanded Colin and Connor instantly complied, thwacking his dick against Colin's tongue, cheek and mouth.

However, the boys were now ready for the main event. Still on his knees, Colin lubed up his straight boy ass as Connor got himself ready. Leaning up against the arm of the sofa, Colin groaned as Connor slid his dick into Colin's ass. Slowly but surely, Connor was able to set a steady pace as he thrust in and out of the tight ass. Soon enough, Connor was able to go hard and fast, Colin demanding that he 'fuck that hole!' Giving Colin's ass a soft slap, Connor was quickly told to slap him harder. By now, both Connor and Colin were panting from the fucking, sweat dripping down their faces. It's no secret that Colin likes dick up his ass and Connor was proving to be everything that Colin liked. Switching it up, Connor sat down on the couch while Colin sat over his lap, slowly impaling himself on the thick cock. Holding his dick and balls out of the way, Colin bounced up and down, riding Connor's cock as both the boys groaned in pleasure. When Colin's knees threatened to give out, Connor grasped Colin around his waist and helped out, holding Colin and thrusting up into the tight hole. Colin's expression showed all too well how much he was loving the feel of a dick sliding in and out of his ass.

Taking back some control, Colin leaned forward and rode Connor's dick like he was at the rodeo, all the while, playing with his cock. Flipping over onto his back, Colin spread his legs wide even as Connor instantly thrust right back in. Both boys were panting heavily from all their hard work and it wasn't going to be long before one of them announced he was ready to cum. Fucking Colin harder than even, Connor's hips snapped back and forth as he attempted to fuck the cum out of them both. As he pounded Colin to within an inch of his life, there was no doubt that Connor was loving every minute of topping another guy. All too soon, as he was tugging hard on his own cock, Colin announced he was about to shoot. Sure enough, only seconds later, Colin shot cum over his stomach and hip. Pulling out, Connor tore off the condom and jerked furiously on his dick, coating Colin's stomach and chest with dollops of cum.