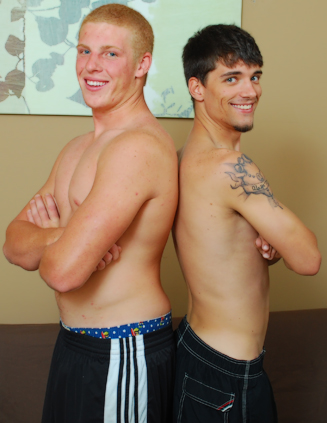 Red hot Connor is back in the studio, along with Darren who will be furthering
Connor's education. Despite saying he probably wouldn't be back to the
studio, Connor took his truck out and ended up damaging his truck, thus, he
now need some dosh to repair his truck. Even though Connor was a little
nervous, I told him that Darren had been in his exact same position about six
months ago and would help guide him through his first man on man
experience. I explained that they would be only doing oral today and would
hopefully be shooting cum onto each other's tongues but first, would be
practicing with toy guns which led me to ask how many guns Connor owned.
It turned out that he owned quite a few, around 7 or 8, all of a varying nature.

I gave Connor the two toy guns that were filled with milk. Once he handed
one to Darren, the boys slid over to the opposite ends of the couch and faced
each other. Taking aim at Darren, who closed his eyes and poked out his
tongue, Connor squeezed the trigger and shot Darren in the nose before
getting his tongue. Darren let his tongue hang out so that the milk dripped
off the tip. I zoomed in really close so that all the Broke Straight Boys
members could see just how hot it was. Now it was Darren's turn for payback
so he took careful aim at Connor's tongue and shot him dead centre on his
tongue. Connor licked his lips as the milk dripped down his chin. I handed the
boys a couple of towels so that they could clean up. After wiping their faces,
the boys stripped off to the buff before sitting back down and working on
their cocks as they watched some straight porn. Even though he had never
jerked off beside another guy before, it didn't take Connor long to get rock
hard. He said it felt a little awkward and went on to admit he had never had a
handjob from a guy so I told Darren to do his best. Connor grinned shyly as
Darren reached over and took control of his dick. Darren slid his hand up and
down Connor's hard shaft, all the while, Connor wasn't sure where to look. A
few moments later, I hinted for Connor to return the favor. With a nervous
laugh, Connor grabbed hold of Darren's dick and tentatively started jerking
him off. Both boys were quiet as they put in some hard wrist action but I
couldn't help but ask Darren how Connor was doing, Darren replying that he
was doing pretty good.

Now, however, it was time to get down to the main event. Darren, the cock
professional, leaned over and took the thick cock into his wide mouth. As
always, Darren was immediately both enthusiastic and ultra noisy in his
efforts, however, Connor looked like he wasn't too sure what to think as he
watched Darren's head bob up and down. Jerking himself off, Darren found
that Connor quickly overcame any qualms he had about another guy giving
him head. Pushing down on the back of Darren's head, Connor started to
relax into the expert blowjob, panting in excitement as he did so. I asked
Connor how it felt, Connor saying Darren was better than the girls at the local
hangout, Darren joking that he came without the STD's. Connor then tried
something new; face fucking Darren. Holding Darren's head in place, Connor
thrust his hips up and down as he drove his dick in and out of Darren's
mouth. It was a move that Darren was able to handle with ease until it was
time for Connor to learn some new skills. Leaning over, Connor slid the long
cock into his straight boy mouth and slowly began bobbing up and down.
Even though he had never tasted cock before, Connor took to blowjobs like a
duck takes to water and even the feel of Darren's hand on the back of his
head, encouraging him to go down further, didn't distract him.

Darren was moaning and groaning in pleasure as Connor got familiar with the
feel of a cock in his mouth. Switching it around a little, Darren stood up as
Connor got down on his knees in front of him. Slowly but surely, Connor slid
the thick cock in and out of his mouth, all the while, Darren grinned down at
him. Holding Connor's head still, Darren added a new skill to Connor's
repertoire; face fucking. Connor adapted quickly, taking the face fucking in
his stride and didn't even blink an eye when Darren suddenly pulled out,
slapped him across the face with his cock and returned to riding his face. I
could see that Darren was getting close to cumming so I told the boys it was
time for the big finish. Connor stuck out his tongue and waited patiently as
Darren tugged furiously on his own cock. Only moments later, cum dripped
down onto Connor's tongue, Darren even wiping the head of his dick on it.
Now, it was Darren's turn for the semi facial. Kneeling down, Darren stuck his
tongue out and stared eagerly up at Connor as Connor jerked off. Soon
enough, Connor came, cum squirting onto Darren's tongue even as Connor
cleaned his dick off.