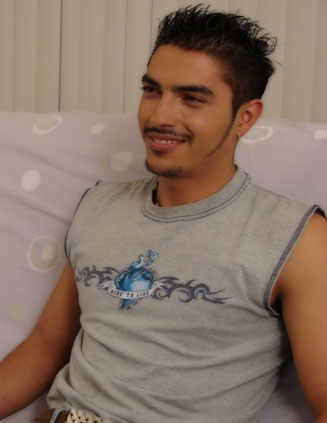 Angel is 19, a student from Spain, and he has a girlfriend back in Spain as well. This was his first time doing anything like this and of course he was a little bit nervous. I met Angel while I was out running errands one day and I thought that he would be perfect for Broke Straight Boys. I explained to him how the first shoot goes, and then from there we would move on to doing duo shoots. I had Angel start with taking off his shirt, and after that was peeled away I could see that he was in good shape. He took off his pants and I put on a porn for him to watch. Angel sat there and playing with his cock, rubbing it, and getting turned on. At the same time he also rubbed his chest and nipples to get excited.

Undoing his boxer button he pulled his penis through and started to jerk off. He took off his boxers after a minute when he was filling more comfortable watching the porn. Moving into a better position he laid back on the couch and kept jerking off for us. In this spot I was able to get several different angles of Angle stroking. I then had my assistant get out some toys and then translate what they were and how to use them. Angel said that he had never used a toy before. Taking a soft, rubber, black dildo he lubed it up and proceeded to start using it.

Watching Angel's body tense up and moans started to come out of this straight, Spanish boy who was sticking a dildo in his virgin, tight ass. With the toy in his ass to my surprise he was able to stay hard the whole time. After a short time of using the toy he said that he was going to cum and I told him to go ahead and do it. Loud moans came out of Angel as he shot his load up his chest. With a dark skin tone I could see that he had a nice money shot load. I then had him pull out the toy and he said he felt he had a good shoot and would love to come back for another one.