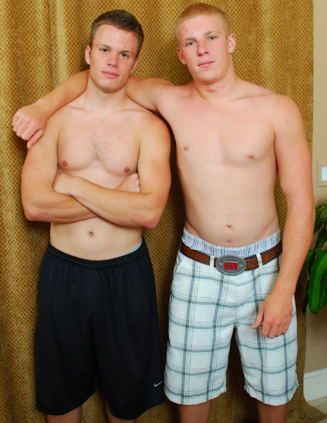 Back in the studio today are Bradley and Connor. It's a special occasion for Bradley as he will be getting fucked for the first time by a guy and luckily, Connor has been nominated to do the deed. As both guys are pretty broke, they are eager to get the show on the road. Standing up, they stripped off naked in record time. They sat side by side on the bed and with a hand wrapped around their respective cocks, both boys worked on getting hard. It wasn't long before Connor was ready to go so Bradley leaned over and started sucking on his rock solid dick. For a relative newbie, Bradley was getting good with his cock sucking skills as he soon had Connor panting in pleasure.

Straight as he was, Connor couldn't help but keep gazing down at Bradley and watching his dick slid in and out of Bradley's mouth. Shifting positions, Connor hopped up onto his knees while Bradley lay on his front and swallowed down the thick cock once more. Connor was loving every minute of the blowjob, encouraging Bradley to go deep by gently pressing on the back of his head. Adapting quickly, Bradley took it all in his stride, looking up at Connor when asked to. As Bradley worked his magic with Connor's cock, Connor admitted that Bradley had a cute ass and wondered what type of sports Bradley might play before giving the well formed ass a hearty slap. All too soon, Connor was ready to take it to the next level. While Connor got himself ready, Bradley shifted to the middle of the bed, reaching behind and pulling apart his ass cheeks so that he could show off his virgin ass hole.

Without hesitation, Connor slid his thick cock into Bradley's straight boy ass. Right away, he was able to set a steady pace, while Bradley groaned at the new sensations. Obviously feeling some discomfort, Bradley wasn't too sure what to make of the new activity but Connor, on the other hand, was liking it quite a lot, especially as Bradley's ass was really tight. As Connor thrust in and out of the once virgin ass, Bradley commented that it did hurt. Connor's response was to advise Bradley to bite down on one of the pillows to take his mind off of things. Slipping out, Bradley worked his cock back in then slid his arms underneath Bradley's so that he could get in even deeper.

Flipping over onto his back, Bradley spread his legs wide and held his dick out of the way as Connor thrust right back in and kept fucking him. Concentrating on his breathing, Bradley clung to the mattress for support as Connor fucked hard. 'Wanna try something a little harder?' asked Connor, immediately speeding up which only made Bradley groan all the more. In a surprising move, Connor, his hips snapping back and forth, leaned down and locked lips with Bradley. Kissing back with equal passion, Bradley introduced a little tongue into the snogging which Connor seemed to appreciate. It suddenly became quite intimate as the two boys kissed and it was with some regret that they both drew apart in order to keep fucking.

Connor only lasted another minute or two before he had to pull out as he was too close to cumming. Condom rolled off and thrown on the floor, Connor quickly stripped his dick as he knelt beside Bradley's face. Seconds later, a stream of cum spurted onto Bradley's chest, who was then a good boy and rubbed it into his skin. While Connor was able to cum, Bradley found that it had all been too much for him and that he wasn't able to give a cum shot but he promised that he would do his best for the next time.