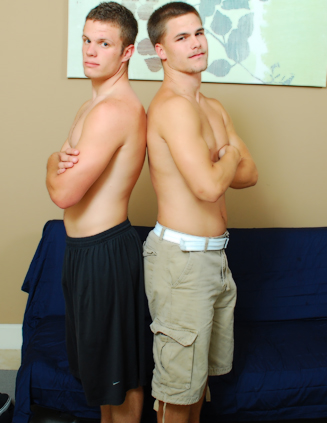 Bradley is a new boy from Colorado that I just picked up from the airport while taking Jimmy and Chad along for the ride. Although he wasn't too happy about the heat, Bradley chatted with Jimmy as we drove back to the studio while Chad filmed the exchange on a hand held cam. As the boys chatted, Bradley said that he was still in school and played football for Texas but that his girlfriend was pregnant, thus, the need for extra dosh. All throughout the ride back, Jimmy fired questions at Bradley who proved he was more than capable of keeping up with Jimmy's confidant attitude, all the while, Chad shouted out ideas for the boys to talk about. By the end of the ride, it was easy to see that the three boys were getting along like a house on fire.

Back at the studio, Bradley and Jimmy sat next to one another on the couch and talked a bit more about how Bradley was a cock virgin and why he was at Broke Straight Boys. Jimmy pointed out that Bradley had his toenails painted red and asked if Bradley liked to be in drag but Bradley just grinned and said it was a girl who painted them while he was passed out a few nights before hand. The two boys discussed what they were going to do in the scene, Bradley admitting that he was going to suck cock for the first time. Jimmy, handing Bradley a banana, got Bradley to show off his cock sucking technique. Now, it was time to get down to business. The boys stood up and took off their t-shirts then stood side by side, Bradley showing off a muscular and solid build that was perfect for football.

I told Jimmy to work on his cock but Jimmy decided to bitch about having to do that and wanted Bradley to take him all the way from 0 to 10. However, as Jimmy took off his shorts and underwear, it was obvious he was already half hard in anticipation of Bradley's mouth on his dick. Sitting back down, Jimmy relaxed as Bradley knelt beside him, still clad in his oversized black shorts, and leaned in close. Taking his first cock into his straight boy mouth, Bradley took to it like a duck takes to water. Bobbing up and down, Bradley let the hard shaft slide in and out of his virgin mouth. Jimmy was in heaven right away, pushing down slightly on the back of Bradley's head in a clear indication of how much he was loving it. Bradley said he now knew how the girls felt when asked how what he thought about cock. As well as Bradley was doing with his first time sucking on a dick, Jimmy had to remind him to watch his teeth and only a moment later, Jimmy almost screamed as teeth grazed his sensitive cock.

Now that he was more used to the taste of cock, Bradley decided to experiment a little by licking at Jimmy's balls and shaft. All too soon, Bradley had to pull off as he was out of breathe from all his hard work so I told him that he could just jerk Jimmy off for a while. Grabbing hold of the hard cock, Bradley put in some fast wrist action as his sore jaw recovered. Before long, Bradley was ready to get back to work. Jimmy stood up while Bradley got down on his knees in front of him and swallowed down Jimmy's dick again. Eyes closed, Bradley sucked on the very tip of the large cock and despite choking every now and again, Bradley showed he was eager to learn some skills he could use later. This new position was obviously more difficult for Bradley as he gagged and had to pull right off in order to get his breath back but Jimmy simply told him not to worry and that everything would be ok. Every time the tip of Jimmy's dick brushed the back of his throat, causing him to gag, Bradley's eyes watered.

Swapping things around, Jimmy lay down on the futon, legs spread wide with Bradley in between them. Going back down on Jimmy's dick, Bradley was obviously more at ease and was able to handle the big dick more proficiently. As the thick dick slid in and out of his hot, wet mouth, Bradley showed he was adaptable to new situations by quickly pulling down his shorts and underwear at Jimmy's request. With his shorts pulled down over his ass, Bradley showed off his nicely shaped ass as he went back to learning new skills with Jimmy's dick. By now, both boys were sweating from all their hard work and it wasn't going to be long before one of them was ready to cum. Jimmy, panting hard in pleasure, announced he was ready to cum so he stood up and told Bradley to get on the futon. On his hands and knees on the futon, Bradley waited patiently as Jimmy stood behind him and wanked off furiously. Moments later, Jimmy came, cum spurting over Bradley's ass cheeks, Bradley reaching behind and rubbing the cum into his skin.