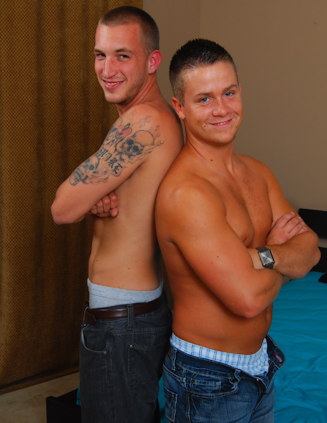 Drake is back in the studio today, along with Colin and both boys are eager to put on a good show for the benefit of the Broke Straight Boys members. Right from the start, Colin and Drake were getting along like a house on fire so I knew that this was going to be one very hot shoot. This is going to be Drake's third time in the studio and Colin is here to continue his education in the gay porn world. Drake may be nervous but he isn't showing it all as both he and Colin banter back and forth with good natured humor. As the boys were more than ready to make a start, I had them stand up and strip off. Clad still in their boxers, Drake and Colin settled down on the bed and started playing with their dicks. A few moments later, they lay down next to each other, wanking off in synchronization. It wasn't long before the boys were rock hard and as Drake was still the new boys, Colin went down on him first.

As soon as Colin sucked Drake's long dick into his hot, wet mouth, Drake was in seventh heaven. Up and down... up and down, Colin worked his magic while showing Drake how a pro sucks cock. As Colin bobbed up and down, he wanked himself off. Drake was enjoying the blowjob so much, he complimented Colin on his oral skills. Despite being experienced in providing oral pleasure, Colin choked when the tip of Drake's cock brushed the back of his throat but like a true professional, he went right back to work. Colin, at my request, went all the way down on Drake's long dick, only to choke again when his gag reflex kicked in. As Colin savored the dick in his mouth, Drake couldn't keep his hands off Colin and kept stroking his shoulders and running a hand over Colin's short hair. Getting carried away in the moment, Drake began gently face fucking Colin, his hips slowly circling up and down as Colin held his head still and mouth open wide.

Finally, the boys were ready to get down to the main event. Colin got down on his elbows and knees at the very edge of the bed while Drake stood behind him and gently worked his cock into Colin's tight ass. Slowly, Drake began fucking Colin, all the while, Colin panted as he got re-acquainted with the feel of a dick in his ass. Drake's dick slipped out and as he slid back in, Drake thrust in on the wrong angle, causing Colin to yelp and jump out of the way. Drake apologised, Colin telling him to go slower to which Drake readily agreed. With a steady rhythm going, Colin reached around and gave himself a hard slap on the ass. Pumping in and out, Drake asked Colin how his dick felt, Colin panting out that it felt good. It was easy to see that Colin was getting more and more turned on, so much so, that he grabbed Drake's hand to give himself another slap on the ass. Drake, always quick on the uptake, responded by giving Colin's already red ass a barrage of hard smacks.

By now, the boys had worked up a sweat and Drake has picked up the pace, much to Colin's appreciation. Kneeling up, Colin was feeling every inch of Drake's long cock but wanted more as he reached behind and grabbed hold of Drake, pulling him closer. Getting the hint, Drake pushed Colin face first on the bed and rode his ass hard. Trying something a little different, Colin took a cushion, placed it underneath his hips and started to fuck himself on Drake's dick by rocking back and forth. It was very hard work so it wasn't long before Drake had to take over again. Flipping over onto his back, Colin had his legs spread wide as Drake slammed back home. Pumping in and out in short thrusts, Drake stopped Colin from squirming around by powerfully holding him down. His leg wrapped around the back of Drake's neck, Colin was panting hard as he started to jerk himself off. In a dominant move, Drake wrapped his hand around Colin's neck and started to choke him, something that only turned Colin on all the more.

It wasn't going to be long before one of the boys announced he was about to shoot his load but it was just a matter of who was going to go first. Colin, wanking off hard and fast even as he was being ridden hard, came first, cum shooting over his stomach and hand before it dribbled down his wrist. Now it was up to Drake to show off his cum shot. Kneeling between Colin's spread legs, Drake jerked off furiously before spraying Colin's ass hole with a fountain of cum.