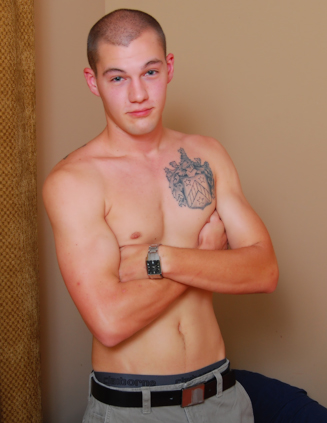 Chad works at the concession stand at the local theatre and while he was at work, someone broke into his apartment and stole all of his electronic gadgets. Now, Chad needs around $3000 to replace everything that was stolen, thus, his visit to the Broke Straight Boys studio. Standing at 5' 11", Chad is 23 years old and says his dick is about 7 1/2 inches long. Even though Chad hasn't jerked off in front of a camera before, he has a comfortable, confident aura around him. I told Chad to get himself started so, sitting in the armchair, Chad undid his shorts and slid his hand down the front of them.

As he watched some straight porn, Chad slowly jerked himself off. It was easy to see that he was getting into it as Chad had hiked up his white polo shirt and was playing with his nipples and gently touching himself over his chest. Soon enough, Chad toed off his shoes before standing up and pushing his shorts down onto the ground. Sitting back down, clad in his black underwear and polo shirt, Chad kept playing with his cock as he worked on getting hard. Pushing the polo up even further revealed a tattoo on Chad's upper chest and from the way Chad kept glancing at the camera, Chad was going to be completely naked in the next few minutes. Chad was giving the camera such 'come hither' looks, that I just had to tell him he was being a tease which only made him grin cheekily.

Chad was giving his cock a good work out but it would be left to the BSB members imagination as he still had his underwear on so, at my suggestion, Chad quickly took them off. Legs spread wide as he sat in the armchair, Chad massaged his balls and dick, reaching down every now and again to lightly tap at his ass hole. Taking advantage of the lube sitting on the side of the bed, Chad squirted some into his hand, slicked up his cock and started stroking. In a testament to how turned on he was in the presence of the camera, it was mere moments before Chad was rock hard. Standing up, he took off his polo shirt and threw it on the floor, allowing for a clear view of his tattoo that was in the style of a family crest.

Clambering up onto the bed, Chad lay down on his front and slowly rubbed his dick back and forth on the sheet, all the while, allowing for a shot of the large tattoo on his back. Flipping over onto his back, Chad was panting hard by now as he got more and more turned on. He took off his socks before turning half on his side and wanking off even as he gazed at the camera and rubbed his well formed ass. Lifting his leg, Chad showed off his ass as he ran a fingertip over the tight hole. Chad shifted onto his elbows and knees, leaning forward onto the bed, all the while he stroked his fingers across the sensitive patch of skin between his ass and balls. Eyes closed, Chad ventured off into a private fantasy land as he slowly fucked his own hand. Chad was sweating heavily as he worked hard for a deposit on his replacement electronics.

Rolling over onto his back, Chad wrapped a hand around his dick and set about wanking off at a steady pace, all the while, he kneading his heavy balls with his free hand. With his legs spread wide, Chad pistoned his hips up and down, leisurely fucking the air as he got closer to cumming. While Chad was a man of little words, there was no doubt about how erotic he was finding this solo session, especially as he kept reaching down and playing with his own ass hole. Soon enough though, Chad settled down and put in some serious wrist action as he worked towards achieving orgasm. His hand flying up and down his thick shaft, Chad couldn't help but glance towards the camera even as cum spurted onto his stomach and even into his belly button. Chad was so pleased with his performance, and who wouldn't be, that he idly dabbled a finger in the pool of cum, all the while, gazing up at the camera before lifting a finger to his mouth and tasting his own cum. From this very hot performance, it won't be long until Chad is back in front of the camera.