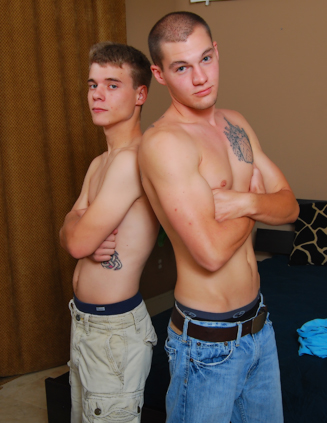 One of the member favorites, Jack, is back on the bed and this time, he is accompanied by Chad. Today, Chad is contemplating taking Jack's cock up his ass, the first cock ever! Both boys were in a hurry to get into it so when I told them to start stripping off, they both leap off the bed, tearing their clothes off with gusto. With their dick's in hand, Jack and Chad worked on getting hard as they watched some straight porn and only minutes later, Jack was ready for Chad to show off his newly learnt oral skills. Standing up on the bed, Jack watched Chad get down on his knees in front of him. Leaning forward and opening his mouth up wide, Chad slid Jack's hard dick into his mouth.

Right away, it was clear that Chad was enjoying the taste of a cock just as much as Jack liked the feel of a hot, wet mouth surrounding his dick. Wanking himself off even as he bobbed back and forth, Chad worked on improving his oral skills by practicing on Jack's long cock. Jack was loving the blow job so much, he started gently face fucking Chad who just took it in his stride. Chad, pausing for a moment to give Jack's dick a long lick, asked if he was doing a good enough job, only grin cheekily when a breathless Jack said he was doing just fine. Back and forth, up and down, Chad lathed the thick cock with his tongue when suddenly, Jack stepped away and tightened his hand around the tip of his dick, obviously too close to cumming for Chad to continue.

As Jack hopped off the bed and walked behind Chad to get himself prepared, I asked Chad if he was ready to get fucked, to which a smiling Chad said he was as ready as he was ever going to be. On his hands and knees, Chad winced as Jack slid in all the way in one hard thrust even as he pulled Chad back towards him. Taking a few moments to allow Chad to adjust, Jack slowly thrust in and out of Chad's virgin ass. Concentrating on his breathing, Chad steadily got used to the feel of a dick up his ass. Suddenly, Jack gave Chad's ass cheek a heavy slap, causing both boys to laugh and break the tension in the room. Jack steadily worked up the pace, Chad reaching down between his legs and holding his dick and balls in the palm of his hand. As this was the first time he has ever been fucked by another guy, Chad wasn't too sure whether he was feeling pleasure, pain or a combination of the two.

Switching it up, Chad flipped over onto his back and spread his legs wide as Jack, standing in between Chad's smooth thighs, thrust his dick back into Chad's tight hole. It was easy to see that this new position was much better for Chad as Jack was able to go faster and harder almost immediately. By this time, both boys were panting from all their hard work and it was only a matter of time as to who was going to pop first. Grabbing his dick, Chad started to lazily jerk off, all the while, Jack pounded his ass. All of a sudden, Jack announced he was about to cum so he pulled out, tore off the condom and furiously wanked off, cum spurting over Chad's stomach and lower chest. Even though Chad didn't shoot off, he surprised me by saying that he wouldn't mind getting fucked again. Looks like we have another convert to the cock at Broke Straight Boys!