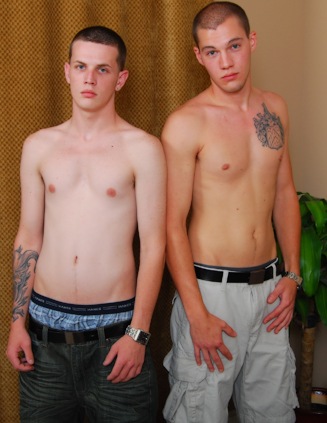 In bed today, we have Anthony and Chad, two boys who are still relatively new to the world of man on man sex. Since the last time we saw them both, Anthony is still looking for a job in construction while Chad has managed to pay for his stolen electronics. However, today, Chad is back in order to fuck Anthony up the ass, something he has never done before with another guy, let alone a girl. Standing up, the boys stripped off their clothes, throwing them onto the floor before sitting up against the headboard on the bed, side by side. Despite Anthony and Chad both being nervous about what was going to be happening, their cocks had no trouble rising to the occasion.

With both their dicks rock hard, one of these boys was going to have to suck dick first and before I could make a choice between them, Anthony said he would give it a go first. Firmly gripping Chad's dick in one hand, Anthony leaned over and sucked on the very tip of the thick dick even as he stroked his own cock. Anthony choked a little as the large dick brushed the back of his throat, Anthony admitting that he wasn't sure he could handle Chad's size. However, like a trooper, Anthony went right back to work. Bobbing up and down, Anthony tried out all his recently learned skills on the very appreciative Chad. Every now and again, Anthony had to pull off and cough but that didn't stop him from experimenting a little with some deep throating.

Soon enough, it was Chad's turn to wrap his lips around a hard shaft. Right away, it was clear that Chad had been paying close attention in his previous scene where he learnt to suck dick. Chad licked around the head of Anthony's cock, all the while, he kept glancing towards the camera. Getting into a routine, Chad bobbed up and down on the long dick before breaking off to pump the shaft, then, going back down. Chad was treating Anthony's dick like it was his favorite candy as he licked up and down the long shaft. He was doing such a great job, I asked him if he had been practising at home which just made Chad grin even as he said that he may have been.

Now, it was time to get down to the main event. On his hands and knees, Anthony braced himself as Chad stood behind him and steadily worked his big dick into Anthony's tight hole. Reaching behind himself, Anthony pulled his ass cheeks apart and groaned as Chad slowly thrust in and out. Chad quickly found that fucking another guy was his kind of pleasure and didn't even attempt to deny it when I asked him if he liked it. Slowly but surely, Chad picked up the pace, all the while, stroking his fingers along the small of Anthony's back. Nodding towards the camera in a clear indication that he was indeed liking his second foray into gay sex, Chad fucked Anthony's ass with relish. Anthony was down on his elbows, moaning in a combination of both pleasure and pain each time Chad thrust into him.

"It feels fucking fantastic!' stated Chad in a quiet voice, his hips snapping back and forth as he rode Anthony's ass. By now, it was obvious that Chad was close to cumming but Anthony may just beat him to the punch. Suddenly, with a huge grin on his face, Chad whispered that he may have just cum already... while still fucking Anthony's tight ass. Sure enough, as Chad pulled out, there was Chad's money shot, pooled in the bottom of the condom. Rolling over onto his back, Anthony spread his legs wide, wrapped a hand around his dick and started jerking off in earnest. Only one or two seconds later, Anthony spurted cum over his stomach and abdomen.