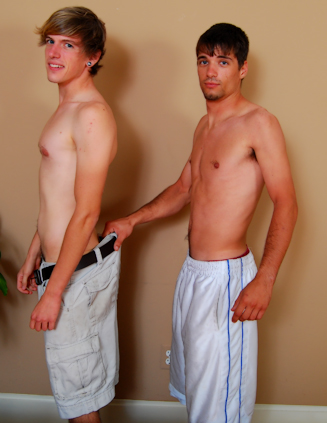 Two of the hottest models on Broke Straight Boys are back in bed together; Kevin and Darren. Once again, both boys are broke and are in desperate need of money. The boys were eager to get the show on the road so they stood up and stripped off like lightening before sitting next to each other on the bed, each boy stroking his cock in order to get hard. With Darren and Kevin stroking their cocks while watching some straight porn, it didn't take either of them long to get rock hard. Darren scrambled to lay down on the bed, his legs spread wide as Kevin knelt in between them and got busy with Darren's thick dick.

'Oh shit!' moaned Darren as Kevin went all the way down, deep throating the large cock. It was clear that Kevin had been doing some after hours practise as he handled Darren's thick shaft with ease. Bobbing up and down, Kevin couldn't help but laugh when Darren called him a 'true American cock sucker!' Helping him along every now again by pushing down on Kevin's head, there was no doubt that Darren was enjoying the blow job. Pumping the shaft a few times, Kevin played with his own cock as he swallowed Darren's dick all the way to the root. Darren started getting a little aggressive with Kevin, forcing his head down but Kevin took it all in stride.

However, it was now time for Darren to return the favor. Kevin stood up on the bed, Darren on his knees in front of him. Leaning forward, Darren grasped Kevin's dick in one big hand and allowed the long cock to slide in between his lips. Right away, Kevin was moaning for more as Darren noisily sucked on his dick. Bobbing back and forth, Darren treated Kevin's dick like his favorite candy. Kevin obviously liked it a little rough as he told Darren to suck his cock harder, something that Darren rushed to comply with. Gasping in pleasure as Darren licked the head and along the shaft, Kevin was loving the feel of a hot, wet mouth on his dick.

Soon enough though, Kevin was ready to get fucked. Laying down on his back with Darren kneeling in between his out stretched legs, Kevin groaned as Darren worked his cock into the tight ass. With a firm grip on his own dick, Kevin wanked off as Darren quickly worked up a steady pace. Holding Kevin's legs apart by the ankles, Darren's hips pistoned back and forth as he fucked Kevin's straight boy ass. In a surprise move, as Darren asked if Kevin liked being fucked, he gave Kevin a gentle slap across the cheek before tightening a hand around Kevin's throat. All the while, Kevin moaned and tugged on his cock all the harder. A slap to Kevin's bottom was quickly followed by another slap across the face.

Holding his balls out of the way, Kevin was moaning like a true bottom bitch as Darren rode his ass hard. Switching it around, Kevin got down on all fours, Darren standing behind him and sliding back home in one hard thrust. In this position, Darren was able to go harder and deeper, each thrust making Kevin pant for more. With a tight grip on Kevin's hair, Darren banged the tight ass without mercy, both boys grunting in pure pleasure. There was no doubt that Kevin was feeling every inch of Darren's thick dick and he was loving every second of it. Darren slapped Kevin's ass, making Kevin gasp and leaving bright red hand print on the pale skin.

The boys shifted again; Kevin standing up and leaning forward onto the bed while Darren fucked him from behind. Immediately, Darren set a fast pace, fucking Kevin without mercy even as Kevin fisted his own dick. A light slap to his ass and Kevin moaned out 'fuck!', all the while, Darren kept pounding his ass. It was clear that both boys were close to cumming but it was just a matter of who was going to cum first. Suddenly, Kevin shot great streams of cum all over the bed even as Darren fucked him. A moment later, Darren pulled out. Sitting on the edge of the bed, Kevin waited patiently as Darren jerked himself off in front of him. Panting, Darren came over Kevin's face, his cum dribbling down Kevin's cheek and lips and chin. In a cheeky move, Darren tapped his cock on Kevin's chin, rubbing the cum into his skin.