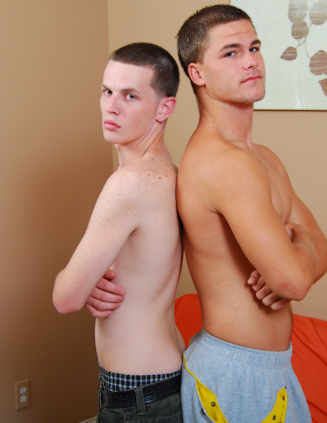 Anthony is back in the studio, along with Jimmy and he is about to learn how to suck another guys dick. As this is only his second time in front of the Broke Straight Boys camera, he is somewhat nervous but Jimmy just patted Anthony's leg and told him not to worry too much. The boys stood up and took off their clothes down to their boxers, Jimmy pointing out that he had on an expensive pair as he had read a forum thread a few days before that had stated how much some members were looking forward to seeing Jimmy in some nice boxers. Sitting back down on the futon, side by side, the boys reached into their boxers and started playing with their dicks.

Minutes later, Jimmy and Anthony slid their boxers down their legs and threw them on the floor. As the two boys jerked off, Jimmy asked if Anthony had ever done anything with another guy before, Anthony acknowledging that he hadn't. At my prompt, Anthony reached over and took hold of Jimmy's thick dick and started wanking him off while Jimmy did the same with Anthony's cock. While Jimmy stayed hard, Anthony was having a little trouble getting started, Anthony grinning and admitted that he was nervous. However, since Jimmy was ready to go, it was time for Anthony to learn how to suck a cock. Grabbing Jimmy's cock and leaning over, Anthony slid the hard dick between his lips.

Slowly but surely, Anthony got used to the taste of cock in his mouth as he bobbed up and down. While Anthony got acquainted with Jimmy's dick, Jimmy leaned back and relaxed as he enjoyed the feel of a hot, wet mouth surrounding his thick cock. Anthony was doing well for his first time, even coming up for some much needed air but remembering to give Jimmy's dick a few hard tugs before going back down. Jimmy was enjoying the blowjob so much, he even told Anthony he was doing a great job. To test out Anthony's newly learnt skills, Jimmy began to gently face fuck him, something that Anthony took to quickly. Despite choking every now and again, Anthony got into a good, smooth rythym and managed to look like a total pro. To mix it up, I suggested that Anthony try licking Jimmy's dick. Pulling off, Anthony leaned right down and slowly ran his tongue from the base of Jimmy's cock all the way to the very tip. With the initial lick done, Anthony began experimenting now that he was a little more confident. Alternating between fisting Jimmy's dick and licking the shaft, Anthony showed that he was a fast learner.

Finally, it was time to get the main event started. Before the boys started on the fucking, I had Anthony show off his virgin ass hole for a few moments. Position decided upon, Jimmy rolled on a condom while Anthony lubed up and scrambled into place. Kneeling on the side of the futon, Anthony leaned down while Jimmy stood behind him and slowly worked his dick into the tight, virgin ass hole. Jimmy was quickly able to set a steady pace even as Anthony started panting in a combination of discomfort and pleasure. 'It hurts!' said Anthony when asked by Jimmy how it felt to be fucked for the first time, however, Anthony wasn't sure if it was more or less than he had originally thought it would be. Soon enough, Jimmy was fucking Anthony's ass hard and even ventured to give the well rounded butt cheek a hearty slap.

As Jimmy rode Anthony's ass, he showed a dominant streak, pushing Anthony's face into the futon, however, Anthony just moaned with appreciation. Going even harder and faster, Jimmy slapped Anthony's ass a few more times, making Anthony groan in pleasure. Switching it around, Jimmy spooned behind Anthony and immediately started a steady pace. With Jimmy driving his dick deep into his ass, Anthony was jerking himself off and it was obvious that it wouldn't be long before they were ready to cum. The new position was much easier for Anthony and it was clear that he was enjoying it much more than before as it wasn't long before he announced he was ready to cum. One.. two.. three tugs on this cock and Anthony sprinkled cum over his thigh and the futon. Grabbing Anthony around the throat, Jimmy rode his ass without mercy as he got closer to cumming. Suddenly, Jimmy pulled out, rolled off the condom and stood next to the futon, directing his dick at Anthony's mouth. Opening up wide, Anthony soon found himself being vigourusly face fucked as Jimmy chased orgasm. Moments later, Jimmy pulled out and shot his load over Anthony's upper chest and shoulders.