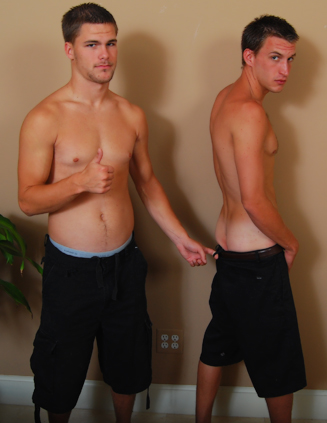 Jimmy and Colin are in bed today and Colin is going to take his second cock ever. First however, the boys are going to indulge in some hot oral. Despite having been fucked once before, Colin is understandably nervous about taking on Jimmy's big cock but Jimmy just told him to take it like a champ. Standing up, Colin and Jimmy stripped off their clothes, Colin getting totally naked while Jimmy preferred to keep his long leg underwear on. As Colin gently played with his cock, Jimmy groped his dick through the cotton boxers, both boys getting hard. With the boys working to get hard, they chatted and joked with each other, Colin saying that when he got called to do some work at Broke Straight Boys, he told friends and family that he was at a business convention. Jimmy, on the other hand, had let it be known that he was an underwear model and given his liking of wanking through his undies, it was somewhat appropriate.

Jimmy slid his boxers off and sat down on the bed, Colin sitting next to him. As Colin was still the 'noob' on set, he went first with the oral. Leaning over, Colin quickly went to work on Jimmy's long dick. Bobbing up and down, Colin tried out some of the tricks he had picked up during his sessions at BSB, all the while, Jimmy leaned back and enjoyed it. Suddenly, Colin went down too far and choked, pulling off but like a trooper, he immediately went right back to work. As Colin worked his magic, Jimmy tried valiantly to grab hold of Colin's dick. Finally, after a lot of groping, Jimmy managed to get his hand wrapped around Colin's dick and started jerking him off. However, Jimmy quickly decided he would help Colin go deeper by forcing Colin's head down, leaving Colin to wank his own dick. With Colin working up a sweat, Jimmy commented that Colin was doing a great job.

It was time to switch things around. Told by Jimmy to 'assume the position', Colin lay down on the bed as instructed while Jimmy moved himself over the top of Colin. Once both boys were positioned correctly, Jimmy started doing his famous pushups, dipping his dick down into Colin's eager mouth as he went up and down. It took Colin a few minutes to get into the routine, even choking a few times as Jimmy's dick brushed the back of his throat. Colin had to turn away to cough and regain his breath even as Jimmy apologised. Still, once he got his breath back, Colin sucked down Jimmy's cock like a pro. While Jimmy showed off his stamina, Colin reached down between his legs and played with his ass, rubbing a finger back and forth the not so virgin hole.

Soon enough, the boys were ready for the main event. With Colin laying on his side and Jimmy spooning behind him, Colin gritted his teeth as Jimmy worked his cock into Colin's tight ass. Right away, Jimmy set a cracking pace, Colin gasping in discomfort from the size of Jimmy's dick. Clutching onto the headboard of the bed so he didn't get shoved onto the floor from Jimmy's hard thrusts, Colin concentrated on his breathing to take his mind off the discomfort. Despite this only being Colin's second time getting fucked, Jimmy was going hard and fast. The boys changed positions; Colin laying on his back, his legs bent back and feet pressed firmly against Jimmy's chest even as Jimmy knelt on the bed and fucked him. As Jimmy pounded Colin's ass without mercy, Colin couldn't help but wince and mutter that it hurt. Shifting slightly so that he was reaching up and holding onto his ankles, Colin closed his eyes and thought of his own private fantasy land in order to take his mind off the dick up his ass.

The boys were both working up a heavy sweat by now and as Jimmy rolled Colin over almost in half and kept riding his ass hard, it wasn't going to be long before the boys were ready to shoot their loads. Dripping in sweat, Colin grabbed hold of his dick and wanked off hard even as Jimmy showed him no mercy. Minutes later, without a word of warning, Colin sprayed cum over his stomach and chest. Now, it was Jimmy's turn. Kneeling next to Colin, Jimmy jerked himself off, cum dribbling over Colin's chest and down his side. Being a bit of a joker, Jimmy wiped his sticky cum coated fingers over Colin's cheek and underneath his nose as he walked off, leaving Colin to wipe his face off on the bedsheet and vowing revenge.