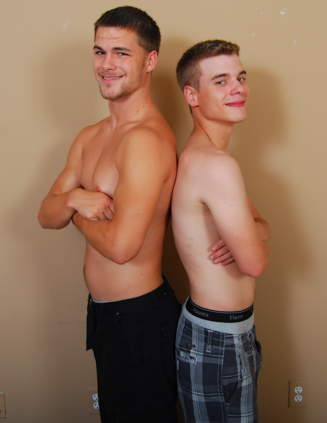 Jimmy and Jack are in the studio today and once again, they are totally broke, thus, the need to do more work at Broke Straight Boys. As they sat on the bed next to each other, Jimmy quickly outlined what they were going to get up to; both of the boys were going to suck cock and then, Jimmy was going to fuck Jack's ass. I told Jimmy that he was going to have to do better with the cock sucking today but he just rolled his eyes, grinned and said he would try. It looked like Jimmy and Jack were eager to get things started so I got them to strip off and get themselves ready. Jack stripped down to the buff while Jimmy left his undies on, both boys playing with their dicks as they watched some straight porn.

A few minutes into it and Jimmy tore off his underpants and threw them on the floor before immediately going back to jerking himself off, all the while, Jack did the same. Soon enough, Jimmy and Jack were half way to being rock hard so I suggested that they give each other a hand job and without a quibble, Jimmy and Jack reached over and started wanking each other off. As Jack was putting in some hard wrist action with Jimmy's dick, my compliment on his technique made him blush. A moment later and Jack leaned over, Jimmy's dick sliding into his straight boy mouth even as Jack fisted his own cock. As Jack gently bobbed up and down over Jimmy's cock, Jimmy couldn't help but comment that Jack must not like sucking dick as he wasn't putting much effort into it which just led Jack to snort in laughter around the dick in his mouth. Still even with Jimmy complaining, Jack soon had him breathing heavily in pleasure. With a hand on the back of Jack's head, Jimmy pushed down, hinting for Jack to go deeper. Choking, Jack came up for a few gasps of air before immediately going back down.

Before too long, Jack pulled off again and said he thought he was getting lockjaw even as he pumped Jimmy's dick. As Jack has been doing so well, I let him just jerk Jimmy off for a few minutes. Now, however, it was time for Jimmy to show off his oral skills. Jack leaned back onto his elbows even as Jimmy wrapped his lips around the head of Jack's cock. Slowly, Jimmy bobbed up and down as he got reacquainted with the taste of dick. Jack lay a heavy hand on the back of Jimmy's neck, prompting Jimmy to let the dick slide further into his mouth. Jimmy choked as the tip brushed the back of his throat but like a trooper, he kept working hard. As he jerked himself off, Jimmy proved to be a little more adventurous as he sucked cock by twisting his head slightly from side to side. Jimmy suddenly came up for air as Jack was admitting that Jimmy's blowjob was pretty good. While having a dick in his mouth might not be his favourite activity, Jimmy was definitely giving the blow job his best efforts.

Eventually, enough was enough for Jimmy so he and Jack sat side by side and wanked off till their dicks were rock hard once more. With both boys raring to go, Jimmy told Jack how he wanted him as they got themselves ready. On his hands and knees, Jack thrust his ass out, waiting for Jimmy to start. Jimmy stood behind Jack and worked his cock into Jack's tight ass. Clenching his teeth, Jack concentrated on his breathing as Jimmy set himself a slow but steady pace. However, only a minute or two later, Jimmy's hips were snapping back and forth as he fucked Jack at a furious pace. Soon, Jimmy was pounding into Jack so hard, the whole bed was shaking. Jack, groaning on each hard thrust, was taking it like a complete pro. Jack was experiencing a bit of pain so he flipped over onto his back in the hopes it was a better position.

Legs held up in the air by Jimmy, Jack grunted as Jimmy slammed back home in one push. Right away, Jimmy was able to just as hard and fast as before. Jack reached down and started jerking himself off in order to take his mind off his ass being reamed by Jimmy's big dick. Jimmy was punishing Jack's ass and Jack was forced to just take it. Switching to long, slow strokes, Jimmy was obviously close to cumming but it looked like Jack might pop first. Sure enough, Jack was able to cum all over his stomach while still being fucked. Now, it was up to Jimmy. A minute later, Jimmy hopped up on the bed next to Jack and wanked off over him, cum splashing down over Jack's entire chest.