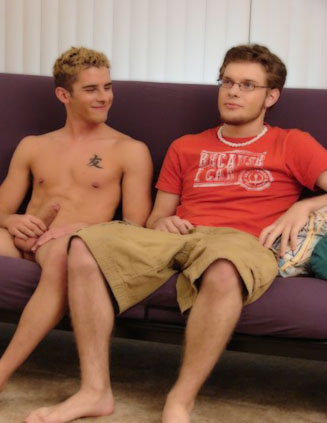 Brady is back again and this time he is ready to put on another show for you and this time I was ready to put him with a straight boy to fulfill his fantasy. Brady liked to mess around and have sex with guys that are straight. Now, I explained to him that I was going to have this guy come by that I met in Phoenix while I was on a trip and he wanted some more work. We moved into the shoot room to begin everything because the other model was running late. Brady and I began talking and he heard a knock at my door and knew that my assistant was dealing with the model before he was sent in the room to join us.

Brady said that he was bisexual on camera for the fact that he didn't want to freak guy out in the other room. He knew that this guy had never really been with another dude and to play the straight-acting card incase they could here the shoot going on. I had Brady take his shirt off and get undressed. His smooth, tone, tan skin looked awesome in our studio like and he looked hot. Brady took a seat on the couch and started to play with himself to get turned on. I explained to him that it was his job for him to help me get the other guy to have sex with him.

When Maverick finished the paperwork he came in the room and took a seat on the couch and kind of had this unease about Brady seating there next to him, naked and jerking off. I explained to Maverick how everything was going to go and that they were just going to jerk off and I knew that he needed this shoot for the money. He got undressed and then resumed the position back onto the couch next to Brady. Jerking off their cocks were growing in size and that is when I began to talk to Maverick to push him a little bit to give oral. Of course, it wouldn't be a good shoot if we didn't haggle about the prize, but finally we had our number of what I was going to pay him to suck Brady's cock.

Leaning over, Maverick took Brady's monster cock in his wet, warm mouth and began to suck on it. His Silvia covered the cock and it made it easier to go up and down. Brady made some great moans that Maverick was doing a good job. After a while I had Brady return the favor to Maverick. Maverick sure didn't complain about getting the head once it was happening.

Then, the real bargaining came to play when I wanted Maverick to get fucked on camera. Finally, once everything was agreed upon, Maverick assumed the position on his knees doggie style. Brady was sweet, by being so patient in the beginning. He put the condom on, and once everything was lubed up, Brady placed the head of his giant penis against Maverick's asshole. Applying some pressure the head started to force its way into the tight space. Slowly at first, Brady was only able to get a little in at a time. Pausing for a brief moment before continuing to put more dick in. I could tell that when the two of them started to feel more comfortable the speed of the fucking began to pick up and I really had a fucking scene going on in front of me. Maverick was getting pounded in the ass by Maverick at a pretty good pace. I stopped them after a while and then decided to have them flip Maverick over on his back to fuck him with his legs in the air.

This was a big change and Maverick was a lot more at ease beginning able to see his face and what was going on. At the same time, I was able to get the facial reactions of both of them a lot easier. While Brady was fucking Maverick he took his cock in hand and Brady jerked him off. That is when I said that it was ok for them to cum at anytime. Pulling out, Brady took of the condom and jerked off with Maverick. Maverick came all over his lower stomach and within seconds Brady came in the same spot and the two of them had sweat and cum all over themselves and the bed of course. This was a fun shoot, and really these two guys together was a fun shoot. I wouldn't be surprised if we push them to try more things together in the future.