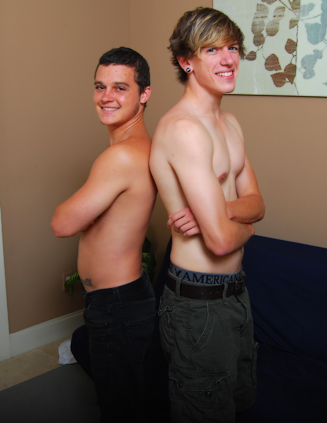 Kevin and Bobby have a very hot scene worked out for the members today; both boys are going to get some cock in them. While Bobby is no stranger to the cock, this was only Kevin's second time bottoming. The boys stood up and stripped off, their clothes thrown onto the floor at their feet before sitting back down. With the liberal help of lube, Kevin and Bobby jerked themselves off, neither boy taking long to get rock hard. At my suggestion, Kevin reached over and took Bobby's cock in his hand, slowly pumping the thick shaft while Bobby did the same for Kevin.

As he slid his hand up and down the slick shaft, Bobby couldn't help but stare at how long Kevin's dick was and there was no doubt that the size was somewhat intimidating. However, it was time to get down to the serious business so Bobby stood up on the futon so that Kevin could start sucking his dick. Kevin leaned forward and took Bobby's thick cock into his mouth, bobbing back and forth even as he jerked himself off. Right away, Bobby was moaning in pleasure as Kevin worked his magic, even daring to deep throat the dick, something he did with surprising ease. While Kevin may claim to be straight, there was no denying that he liked the taste of cock in his mouth, Bobby even stating that Kevin was doing a good job.

All too soon, it was Bobby's turn to return the favour for Kevin. Sitting back down next to Kevin, Bobby somewhat hesitantly started sucking on the head of Kevin's dick. With a hand on the back of Bobby's head, Kevin helpfully hinted for Bobby to go deeper on his long cock. As Bobby concentrated on just the head, Kevin grinned and suggested that Bobby could go further down on his dick. To be fair, Bobby did try and go down further but immediately choked as the dick brushed the back of his throat. Despite Bobby not being able to go down too far, it was clear that Kevin was enjoying the feel of the hot, wet mouth on his dick. Reaching down, Bobby fisted his own dick even as he ran his tongue up and down the long shaft of Kevin's dick. Even though he wasn't keen on the flavor, Bobby gave his tongue a good work out.

Finally, Bobby asked to get down to the fucking, Kevin agreeing with the idea. With both boys prepared and lubed, Kevin and Bobby decided to try something a little different. Kevin lay down on the floor, knees bent back while Bobby knelt forward on the futon and drove his cock into Kevin's ass in one swift move. Right away, Bobby was able to set a hard and fast pace, all the while, Kevin slowly wanked off. Riding Kevin's ass hard, Bobby quickly worked up a sweat with all his strenuous work. Kevin hooked his arms underneath his knees and pulled his legs forward, panting in pleasure as Bobby fucked his ass. As Kevin grabbed his dick again and started jerking off at a furious pace, I could see that he was close to cumming but as he still had to fuck Bobby, I couldn't let it happen so I told the boys it was time to swap places.

With the quick break, Kevin was no longer right on the edge of shooting his load. Sitting down on the futon, Kevin helped brace Bobby as Bobby slowly lowered himself down onto Kevin's long dick. Slowly but surely, Bobby rose up and down, teeth clenched tightly as he took the biggest cock he's ever had so far. There was little doubt that Bobby was having trouble adjusting to Kevin's size but like a trooper, he pushed on. It was a difficult position though but as soon as Bobby muttered that his legs were hurting him, Kevin took more of Bobby's weight in order to help him out. Up and down, up and down, Bobby rode Kevin's cock at a steady pace, all the while, jerking himself off until he was rock hard again. Groaning loudly, Bobby suddenly shot his load, cum spraying in every direction even as Kevin rolled the condom off his own dick and started jerking himself off. As he wanked off at a hard and fast pace, Kevin thrust his hips up as if he was fucking someone and only seconds later, cum shot up and onto his stomach before dribbling down into his pubes.