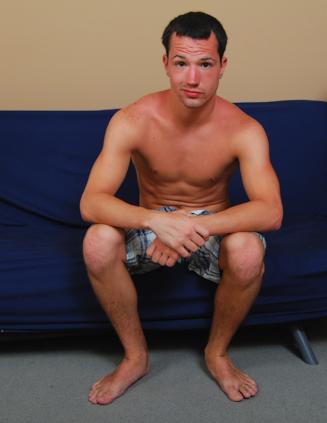 Seth is a new boy whom I happened to see at Walgreens. His card was declined as he was making a purchase at the register but I managed to catch up with him in the parking lot and convince him to come into the studio for a quick and easy jerk off session. Although, like most of the boys, Seth was a little skeptical at first, the desperate need for instant cash overrode any doubts. I got Seth to stand up and start stripping off his clothes, dark haired Seth revealing a tanned, toned body that had a very nice tan line just above his well rounded butt cheeks. Sitting back down on the futon, Seth started playing with his dick for a moment before rather shyly reaching down for the lube and slicking up his cock. As he stroked his cock, Seth said that, when measured, his dick was around seven and a half inches in length. Even though he was visibly nervous, it didn't take long for Seth to get his dick rock hard. His hand moving up and down in a leisurely pace, Seth reached down with his free hand and started to roll his low hanging balls in the palm of his hand.

Letting his cock stand to attention for a few moments before wrapping a hand around the shaft and pumping it in a fast pace. Despite Seth obviously being aroused, his battle with his nerves wasn't quite over and he asked me how much longer the session was going to take as he had to meet his girlfriend fairly soon. I told him only five more minutes and Seth continued to put in some hard wrist action, all the while, playing with his balls. I got Seth to stand up for me so that I could zoom in with the camera and get a better shot of how long his dick was, as well as his plump, dangling balls. Jerking off, Seth couldn't help but glance towards the camera every now and again even as he started panting from all his hard work. I asked him if he felt good, Seth immediately replying that he did. Holding his dick still for a moment, Seth grinned shyly when I told him he had a nice dick and even confessed that a lot of people had told him so before.

At my request, Seth turned around so his ass was facing the camera and I told him to get down on his knees on the couch and to shove his dick through his thighs while wanking off. There was no doubt it was an awkward position but Seth handled it well and there was a clear view of his thick cock between his legs, Seth's hand gently sliding up and down the shaft. Seth did this for a few minutes before shifting around to sit on the futon with his legs spread wide and his feet on the edge of it, his ass still being shown off before quickly laying down lengthwise. His hand flying up and down on his cock, Seth once again asked how much longer it was going to take, obviously anxious for the cash and to see his girlfriend. Grinning when I told him it wouldn't take much longer, Seth worked hard towards orgasm. Asking Seth if that was how he jerked off at home got me a surprise answer, Seth admitting that he sometimes pretends he is fucking someone instead.

I told him to show me how he did it and Seth quickly scrambled onto his knees and, while jerking off at a furious pace, started pistoning his hips back and forth as if he were fucking his girlfriend. Seth had set a cracking pace but surprisingly, he was worried about where he would have to cum when the time came and I asked him if he could cum in that position, Seth smiling and saying he even cum upside down before kindly demonstrating the new position. As he pumped his dick, Seth said he just liked to try new things. Panting hard, it was obvious Seth was close to cumming. Slicking up his dick again, Seth went for broke. Soon enough, and without warning, Seth sprayed his chest and stomach with cum before it dribbled down his shaft and into his cropped pubes. Seth definitely worked hard for his money and ended up showing off a never before seen position so I'm sure he will be back in the studio in no time at all.