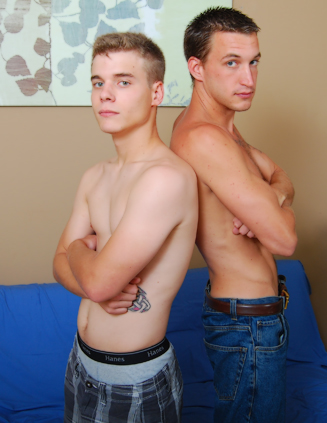 After making some easy cash in his first appearance on Broke Straight Boys, Colin decided to give the studio another call and today, he is going to be learning all about dick sucking with Jack. While Colin is understandably nervous about the whole 'I've got another man's cock in mouth' thing, he's willing to give it a go. Jack and Colin stood up and stripped off their shorts and jeans before sitting back down on the couch and fiddling with their cocks. Despite his nerves, Colin didn't take long to get rock hard, Jack only mere seconds after him.
Reaching over, Jack took Colin's dick in hand and put in some serious wrist action as he fisted both is own dick and Colin's. Jack's expert rhythm soon had Colin panting in pleasure, so much so, Colin was embarrassed to admit that Jack's hand felt good but weird. Jack laughed at Colin's statement, both hands pumping up and down. I told Colin to return the favour for Jack, and without a quibble, Jack grabbed hold of Jack's dick and started his first ever handjob. Even though he was clearly inexperienced and he said it felt weirder, Colin was putting in a great effort, something that Jack was obviously enjoying.

As the two boys were doing so well together, I thought I would throw them for a loop and asked Colin if he had ever kissed another guy before. Colin, of course, immediately said no and tried to laugh it off but I told him he needed to practice it. Jack, however, was already turning towards Colin, ready to give Colin another first for the day. Stating it was all just for the money, Colin moved in close to Jack and put his arm around his shoulders. With no hesitation, Colin dived in towards Jack and the boys locked lips, even as they kept jerking each other off. Surprisingly, both Colin and Jack put some tongue into their snogging as they tilted their heads this way and that in order to find the best angle. They broke away after a few minutes, Jack grinning widely while Colin looked a little flustered. However, I told them to keep going as they looked really hot together. Laughing, Colin and Jack leaned in towards each other again and locked lips. Panting from the effort, the boys broke apart and I suggested that Jack kiss all the way down Colin's chest before giving head. Jack kissed a trail down from Colin's lightly haired chest to his cock and wrapped his straight boy lips around the head of Colin's dick.

Right away, it was easy to see that Colin was loving the feel of Jack's hot, wet mouth surrounding his dick. As Jack slowly bobbed up and down, Colin rested a hand on top of Jack's head, his eyes closed as he enjoyed the blow job. Colin was soon panting hard as Jack worked his magic, even admitting that Jack was pretty good. Jack, even though he was a complete pro, soon found his jaw aching from the size of Colin's dick and had to take a quick breather. It was a good opportunity to switch things up so I told Jack to get down on the floor and tilt his head back while Colin straddled Jack's face and face fucked him. Jack adapted to the new position with ease, wrapping a hand around his own cock and jerking off even as Colin stuck his dick all the way down his throat. Colin braced himself on the back of the couch, gently thrusting in and out of Jack's mouth. It was obvious that Colin was getting more turned on by the minute and even reached around and started rubbing his own ass hole. As Jack deep throated Colin's dick, Colin said that the blow job felt good, all the while, his cock brushed the back of Jack's throat. A few minutes into the new position, Jack admitted that he was getting tired and I had to hand it to Colin, he sure had the stamina to go for hours. To make it a bit easier on Jack, Colin stood up while Jack kneeled down in front of him and swallowed down the thick cock again.

Jack jerked himself off at a furious pace, obviously close to cumming. With a hand on the back of Jack's neck, Colin hinted for Jack to go deeper. Gasping for breathe, Colin was getting close to cumming as well. Jaw getting tired again, Jack broke off and gave the thick shaft a few pumps before going back down. It looked like Jack was going to be the one to shoot first, his hand flying back and forth over his cock even as Colin gently face fucked him. Sure enough, Jack dribbled cum into the palm of his hand and all over the floor. Sitting down, Colin wanked off hard towards orgasm, helped out by Jack who licked his balls. Seconds later, Colin shot all over his chest and stomach, the cum dripping down his abs.