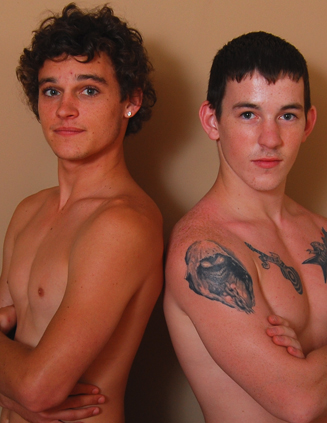 The last time Bobby and Mick were in the studio together, Mick fucked Bobby so let's find out what they are going to do together today. Apparently, Bobby wants to fuck Mick in revenge for the last time. As Mick and Bobby were already half naked, it only took them a few seconds before they were completely in the buff and playing with their cocks. In what had to be the fastest time ever, both Mick and Bobby were rock hard at the very same instant. In something of a surprise, Mick decided that he would show off a particular trick he had with his dick. While some people are able to crack their knuckles, Mick was able to do the same thing with his fat cock. Mick grabbed hold of his dick and pushed it forward while leaning back slightly and sure enough, there was a loud popping noise that had both Mick and Bobby laughing.

I told Bobby that he needed more practice with deep throating and that there was going to be a deep throating competition, to which, Bobby brought up the idea of an extra $50 to the winner. As I agreed to the prize money, Mick stood up on the bed while Bobby got on his knees in front of him. Bobby leaned in and wrapped his lips around the head of Mick's cock, bobbing back and forth as he got used to the taste of cock in his mouth again. Mick grinned and nodded when I asked if Bobby was doing a better job than the last time. It wasn't long before Bobby's hard efforts had Mick panting in pleasure. Handing Bobby a tape measure, I told him to measure how long Mick's dick was. Bobby quickly did the deed and said that it was seven and a half inches long.

Bobby was going to get three tries to see how deep down on the cock he could go. Opening his mouth up wide, he dived down but immediately choked and broke off and only ended up going almost four inches down. The second try, Bobby again choked but went down by five inches. Bobby didn't want to try again but said that he had improved his skills since the first time he tried deep throating. I agreed so let him off the third try and instead, told Mick it was his turn to show his stuff. On his knees in front of a standing Bobby, Mick grabbed the measuring tape and held it up against Bobby's long cock, measuring it at only 5 inches. However, as Bobby was only half hard, I told Mick to get Bobby rock hard and to measure again. With a hand on his own dick, Mick swallowed down Bobby's cock and went right to work, taking only a few minutes before Bobby was fully hard again. Tape measure in hand, Mick measured Bobby at being 6 and a half inches long. Now it was time for Mick to try out his deep throating skills.

On his very first try, Mick was able to go down the full length of Bobby's dick. As Mick looked so good as the cock slid all the way down his throat, I got him to do it a few more times, something Mick easily did. Now it was time to get the show on the road. Mick got down on his elbows and knees while Bobby stood behind him and bent his knees, slowly working his cock into Mick's tight ass. Mick, one of the noisier boys when getting fucked, grunted on each thrust of Bobby's long dick. It wasn't long before Bobby set a steady pace, gripping onto the head board as he rode Mick's ass. By this time, both Mick and Bobby were panting hard as they worked up a sweat. Bobby was loving the feel of Mick's ass, giving the camera a hearty thumbs up as he slid in and out of the straight boy ass, muttering 'revenge is sweet!'

Flipping over onto his back, Mick proved how flexible he was as he spread his legs wide in the air and slipped his hands underneath his hips, lifting his ass up high. Bobby grabbed Mick's ankles and drove his dick right back down into Mick's slick hole. Setting a hard pace, Bobby thrust in and out in deep strokes, Mick groaning on each thrust. It was a hard position but both boys were making it work well, Bobby giving another thumbs up as he grinned into the camera. Another few minutes of intense fucking went by before Mick moved to the edge of the bed and lifted his legs again, Bobby sliding his dick into the ass in one go. As Mick grabbed his dick and wanked off furiously, it was obvious that he was only moments away from shooting over himself, even as Bobby was fucking him hard. Suddenly, Mick announced he was about to cum and sure enough, with a couple more tugs on his cock, Mick dribbled cum over his stomach and into his pubes. Pulling out, Bobby ripped off the condom and hopped up on the bed, jerking himself off as he stood over Mick, cum sprinkling over Mick's entire torso and even onto his face and neck.