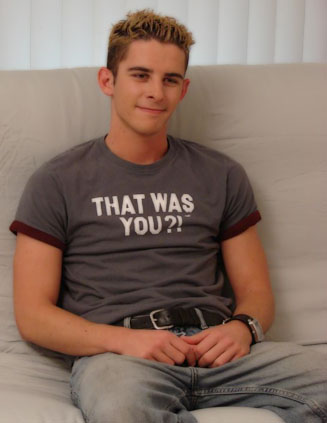 In a response to our ad we had this guy come by and his name is Brady, he was about to turn 21 in about a week. Now, Brady told me that he was gay, and very much into straight guys. It is unlike us here at Broke Straight Boys to have a gay guy jerk off for you; usually we have just used a gay guy in a duo or group scene. However, things were kind of slow and when I saw Brady's pictures I knew that I had to have him come in to do a shoot. Of course, I want to get him in a duo scene, but I wanted to see how he was going to do before I went to all that trouble. Explaining that this was a paid interview, that I was going to pay him to jerk off, and then we would have him back for a birthday present.

Brady stood up and went for his clothes. Taking off his shirt, he revealed a smooth, tan, tone, chest and stomach. He took off his pants and then slide off the boxer briefs. Turning around, I had him show us his other tattoo on his back. I had him bend over for me to show off his nice ass, and he said that he would let a straight guy plow him. Taking a seat, I had Brady get hard and for us to give a nice show. Grabbing a hold of the back of the couch, he flexed his arm to show the muscle tone. Brady had a raging cock that was nice and thick. Panning the camera down I even got a little feet action from Brady wiggling his toes.

Twisting his wrist, Brady would rotate his hand with some lube to jerk off. Breathing nice and deep I could tell that he was getting into the shoot and was doing fine. When he was getting closer to an orgasm he would stop rotating so much and would go faster jacking off with an up and down. Getting closer to cumming he aims his cock up his chest for a place to shoot the cum. He ended up moving his cock back and forth until he was ready to cum. Brady let out that he was going to cum and I moved into closer to get the shot. White, creamy, thick, cum dribbled out of his cock onto his stomach and hand as Brady continued to breath heavily out loud. It was great shoot, and now Brady is ready to get his hands on a straight boy. We will see Brady back soon to fulfill his fantasy so stay tuned.