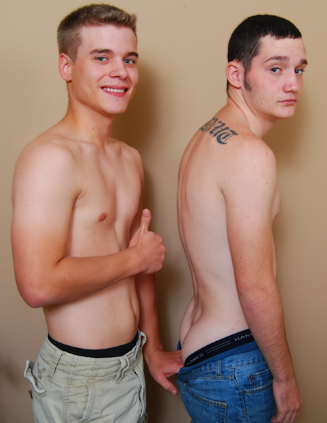 Two of the shyest boys on Broke Straight Boys are in the studio together; Mark and Jack. Today, Jack is going to have the pleasure of riding Mark's tight ass. While Mark has had his ass fucked before on camera, Jack, on the other hand, has never topped another guy before. Both boys had discussed what they were going to get up to during the scene before we started shooting and such, it was easy to see that Mark and Jack were pretty comfortable with each other. The boys stood up and stripped off their clothes, throwing them on the ground before sitting back down on the bed. As they each grasped their cocks, I told them to jack themselves off while giving each other a good snog so Jack and Mark immediately leaned in towards each other and locked lips.

Although they were somewhat hesitant while kissing, nonetheless, they both put a little tongue into it. After a moment or two, they broke away from each other, both shyly grinning and nodding when I asked if it had felt strange. As I told them to pretend the other guy was a girl, Mark and Jack started kissing each other again, Jack even daring to kiss the back of Mark's neck. It didn't take long for Jack to get rock hard and as such, it was time for Mark to get the main show on the road. Jack hopped onto the bed while Mark knelt in front of him, swallowing down Jack's thick dick. Right away, it was easy to see that Mark had been paying attention in his previous BSB appearances as he quickly had a smooth rhythm going as he bobbed up and down. Jack gently rested his hands on the back of Mark's head, hinting for Mark to go deeper. As Mark slid the dick further into his mouth, Jack couldn't help but grin as he enjoyed the feel of a hot, wet mouth around his cock, all the while, Mark was putting in some serious wrist action as he jerked himself off.

Mark was doing such a great job at cock sucking, Jack was getting weak at the knees so he decided to lay down on the bed, propping himself up on his elbows. Grasping hold of Jack's dick, Mark slid the dick straight back into his mouth as Jack groaned in pleasure. His hand on the back of Mark's neck, Jack gently but persistently pushed down, giving Mark a not so subtle plea for him to take it all the way down. Finally, Jack was more than ready to get down to some fucking. The boys got themselves slicked up, Mark then laying on the bed on his side with Jack spooning him from behind. Holding Mark's leg up in the air, Jack steadily worked his cock into Mark's tight ass even as Mark jerked himself off. Once all the way into the straight boy ass, Jack immediately riding Mark in a hard and fast pace. Mark was soon panting from the feel of a cock sliding in and out of his tight ass, while Jack's face was a picture of pure concentration.

I suggested that Mark and Jack kiss while they were fucking and without skipping a beat, their lips met and they breathlessly kissed each other. However, the position and speed in which Jack was hammering into Mark made it difficult to keep kissing. It was obvious though, that Mark was getting totally turned on by a cock in his ass as he was moaning in pleasure while stroking Jack's neck and shoulders. The boys decided to shift into their next position but, surprisingly, they gave each other a peck on the lips as they did so. Mark, on his back and ass hanging off the edge of the bed, lifted his legs in the air, ready for some more fucking. Jack grabbed hold of Mark's ankles and slammed right back into the tight hole. Right away, Jack rode Mark hard and brutal, all the while, Mark jerked himself off and panted for more. It wasn't going to be long before one of these boys came but it was anybody's guess as to who was going to shoot first. His hips snapping back and forth, Jack suddenly pulled out and tore off the condom, wanking off furiously as he climbed onto the bed and knelt next to Mark's face. Mark, panting hard, stuck out his tongue and waited for Jack's offering.

One.. two.. three tugs on his cock and Jack shot a stream of cum into Mark's mouth, the cum rolling down the side of his face and neck. With a fingertip, Jack scooped up the cum dribble and popped it into Mark's mouth. Now it was Mark's turn for the money shot and with a tight grip around his dick, Mark quickly sprayed cum in every direction before it dribbled down his shaft and into his pubes. Both boys were panting breathlessly from all their hard work but good naturedly ended the scene with a kiss.