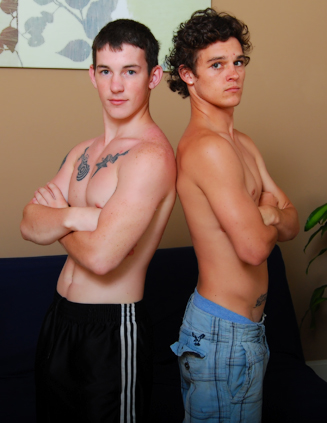 Bobby and Mick, two of Broke Straight Boy's favourites, are here to show off their creative side. I told the boys that they were going to do some painting, not the usual kind on a canvas but instead, they would be doing a landscape or portrait on each other's body. Both Bobby and Mick were a little taken aback by this idea, however, they quickly warmed up to it when I offered an extra $50 for the best picture, Bobby volunteering to do the painting first. Mick stood up and stripped off his shorts before re-arranging himself on the futon with his ass on the very edge and his elbows hooked under his knees, pulling his legs apart. Bobby knelt in front of him, saying he could use the hairs on Mick's ass as the trees.

Dipping his brush in some blue paint, Bobby reached over and painted a blue stripe just above Mick's ass hole, Mick giggling as the brush tickled a very private area. As Bobby then proceeded to paint some brown hills, I asked Mick if he had ever done this before and not surprisingly, Mick hadn't had the pleasure. Bobby then blobbed a yellow sun on Mick's inner thigh as Mick grinned widely. Mick couldn't help but laugh as Bobby tickled him while decorating his nether regions with trees before drawing a happy face on the underside of Mick's balls. Swapping places, Mick decided to go for something a little more challenging than a landscape and said that he was going to try and paint Bobby's face on his taint. Holding his balls out of the way, like Mick, Bobby found the brush against his skin to be ticklish but held still as Mick started his masterpiece. First, Mick drew a white face then, with a dollop of brown paint, he added Bobby's curly brown hair. Two green eyes and an added nose and mouth completed Bobby's portrait. Now that the 'serious' work was done, it was time to get down to the fun stuff.

Once the boys had gone and cleaned up, they sat back down on the futon, clad in their shorts again. Both Bobby and Mick were rock hard so I had them pull down their shorts and show off their cocks before giving each other a hand job. Mick and Bobby reached over and took a cock in their hands and went to work. As Mick pumped Bobby's hard shaft, he couldn't take his eyes off Bobby's cock. After a few minutes, both boys were as hard as they were ever going to get so Bobby stood up while Mick, sliding off his shorts, knelt in front of him. Mick immediately leaned forward and swallowed down Bobby's cock and it wasn't long before Mick was going deep, much to Bobby's pleasure. Mick even did some deep throating, something that impressed Bobby. Hands on his head, Bobby couldn't help but gasp when Mick started slowly licking his balls. As Bobby's cock went all the way down Mick's throat, Bobby admitted that Mick had a strong mouth on him. All the time he was sucking cock, Mick's own dick was pointing high.

Now it was Bobby's turn at having a dick in his mouth. Grasping Mick's cock tightly, Bobby went to work, bobbing up and down as he sucked on the head of Mick's cock. Mick was soon moaning in pleasure as Bobby lavished attention on his dick. At my direction, Bobby tried to go all the way down on Mick's thick cock but immediately choked and instead, flicked his tongue around the head before licking up and down the shaft. As Bobby slid the dick back into his mouth, Mick reached around and started jerking Bobby off. Finally, it was time for the main event; Bobby getting a dick up his ass. Leaning against the back of the futon, Bobby slicked himself up with some lube and then braced himself while Mick also got himself ready. As it was only Bobby's second time taking cock, Mick slowly but steadily worked his dick into Bobby's tight ass hole. As Mick gently thrust into him, Bobby clenched his teeth and groaned each time Mick moved forward. Soon enough though, Mick was able to speed up even as Bobby started to wank himself off in order to take his mind off the discomfort.

Mick was breathing heavily from all his hard work but said that Bobby's ass felt good. Bobby wasn't comfortable in the current position so he decided to give riding the cock a go. Mick sat down, Bobby crouching over his lap and gently bobbing up and down on Mick's cock. While it seemed to be a much harder position for Bobby, it was clear that he liked to have more control of the situation. As Bobby rode his thick cock, Mick reached around and held Bobby's balls out of the way for a few minutes before Bobby grabbed hold of his cock and jerked off. Mick, relieving Bobby of some of the strain on his legs by holding him up, started to thrust up into Bobby's ass. Surprisingly, and with no warning, Bobby shot his load, cum dripping all over Mick's thighs. Now it was Mick's turn. Bobby hopped off and lay down on the futon, Mick standing next to him and putting in some serious wrist action. Only moment's later, Mick liberally coated Bobby's chest with cum.