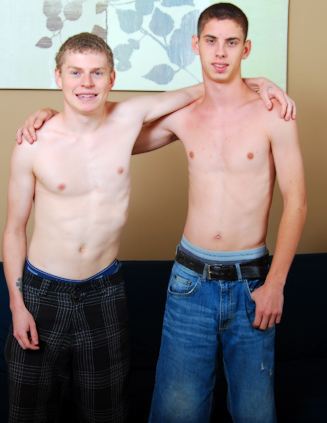 Sam is back for more easy cash and he is joined on the futon by Reed and they have agreed to give cock sucking a go. As I could see that the boys were quite nervous by what was going to happen, I thought it best to get them started pretty much straight away before their nerves could take over so I told them both to stand up and strip off. Their clothes thrown to the side, Reed and Sam stood side by side in the buff, a shy expression on both their faces as they turned around and showed their well rounded butts to the camera. Sitting back down, the boys took their cocks in hand and started jerking off as they watched some straight porn. Like most young guys, it didn't take them long to get half hard, so I suggested that they help each other out to get all the way there. Sam and Reed hesitantly reached for each other's dicks, wrapping a hand around an unfamiliar shaft and started slowly pumping up and down. Both boys were concentrating hard on the new task but when I asked Reed how it felt to have Sam wanking him off, Reed gave a somewhat embarrassed laugh and said it felt pretty good. It was time to get down to the main event and as Reed had lost the coin toss before we started shooting, it was up to him to suck dick first.

Clearing his throat, Reed leaned over and slid the huge cock into his straight boy mouth. Right away, it was clear that Sam was enjoying the feel of the hot, wet mouth on his eight and a half inch dick as he pressed down on Reed's head, encouraging him to go deeper. It was safe to say that the size of Sam's cock was going to prove a challenge to even the most experienced cock suckers, however, for a first timer, Reed was doing well as he bobbed up and down. When asked, Sam grinned and said that the blowjob felt alright. Reed had to pull off for a moment as his jaw was hurting but, after spitting on Sam's dick and wanking him off for a minute, Reed went right back down. Reed quickly got into a routine of sucking on just the head of Sam's dick while pumping the cock shaft at the same time and was able to do this for a while until he went too deep and choked. As Reed's jaw was hurting too much, it was now Sam's turn to show what he had. On his knee's in front of Reed, Sam gripped Reed's cock and somewhat hesitantly wrapped his lips around the head of Reed's dick. Bobbing back and forth, Sam slowly got used to the taste of cock for the first time.

Reed lay a hand on the back of Sam's head, hinting for him to take more dick into his mouth. Sam got the message and started to pump Reed's dick as he sucked on the very tip of his dick. The longer Sam had a dick in his mouth, the more daring he got, experimenting with licking the shaft and turning his head on an angle. As Sam jerked himself off, he reached up a few times and gently played with Reed's balls. I could see Sam was getting tired so I told the boys to swap places. With Reed getting down on to his knee's, Sam stood up in front of him, holding his dick as Reed quickly swallowed it down. As he jerked himself off, Reed worked hard on getting used to a dick in his mouth. A few moments later, I told Reed to try licking Sam's dick and without skipping a beat, Reed grasped Sam's dick and flicked his tongue around the head before going back to sucking on the head even as he pumped the shaft. By this stage, both boys were breathing hard in pleasure and had worked up a hard sweat. When asked, Sam said he was close to cumming so I told them to sit back down.

Shifting onto his side, Sam slid Reed's dick into his mouth again even as he wanked himself off. It was easy to see that Reed was pretty close to cumming as well so it was just a matter of who came first. As Sam was jerking himself off at a fast pace, Reed pushed down on Sam's head and pumped his own cock up into Sam's open mouth. All of a sudden, Reed stopped fisting his shaft and held still as Sam instantly pulled off, worried that Reed might cum in his mouth. Nodding, Reed indicated that he was about to cum and sure enough, one or two pumps later, cum dribbled down his shaft and into his pubes. However, Sam was only a couple of minutes behind him, cum spilling over onto his stomach and into his pubes.