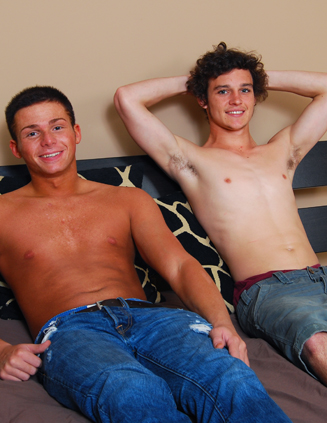 Two extra hot boys are on the bed today; Brody and Bobby. Brody is here to earn some extra money for an up coming trip to Las Vegas while Bobby needs money to buy his girlfriend a birthday gift. As the two boys discussed what sort girls they preffered, Bobby quickly got naked while Brody left his clothes on. I asked if Bobby was interested in doing some oral in this scene but he said he wasn't that desperate for money so I said I would pay them $300 each to just jerk off. Bobby and Brody were happy with that idea, Brody standing up and disrobing as well. Sitting on the bed, side by side, Bobby and Brody jerked themselves off as they watched some straight porn featuring girls with big tits and ass.

Like always, Bobby was rock hard within mere moments so I told Brody to suck his cock for an extra $200 but Brody countered with $400. Settling for $300, Brody got onto his knees while Bobby stood up on the bed. Brody leaned down and immediately started sucking on the head of Bobby's long cock. Like a duck takes to water, Brody was an instant hit with his cock sucking, even giving the thumbs up sign as he bobbed up and down. Bobby kept peeking down at Brody, a wide grin on his face as he enjoyed the feel of a hot, wet mouth on his dick. At my instruction, Brody grasped Bobby's cock in one hand, pumping the shaft as he licked at the head. A moment later, he went back down on Bobby even as Bobby gave his skills a hearty thumbs up. I challenged Brody to try and deep throat the thick dick, and after a moment's hesitation, he went deep only to pull off choking. Still, like a trooper, he gave it another go only to choke again. Nonetheless, he went right back to work, proving he had some serious skills at cock sucking by going hands free.

Bending down slightly so that Brody had better access to his cock, Bobby was grinning as if he couldn't believe his luck in having his cock sucked so nicely. Brody came up for air, panting from all his hard work. As both boys took a breather, I could see that Bobby was still rock hard and deciding to see how far they would go, I offered them $750 for Bobby to fuck Brody's ass. Brody immediately protested that it was too cheap so I asked him how much. After some negotiating, Brody settled for $1500 while Bobby was happy with $800. I told Brody to show his soon to be fucked ass to the camera which he promptly did. Sitting back up, Brody was more worried about Bobby not using lube than he was about being de-virginised.

On his hands and knees on the bed, Brody gritted his teeth and tried to relax as Bobby stood behind him, all lubed up and with a condom on. Slowly, Bobby worked his cock into Brody's ultra tight virgin ass, inch by inch. Brody was so tight, Bobby could only get a few inches in but was able to set a steady pace. Moaning in discomfort, Brody said that being fucked hurt but kept thinking of the money. As he thrust in and out of the tight ass, Bobby was starting to pant hard even as Brody clenched at the bed sheets. They flipped over to Brody on his back, legs in the air as Bobby knelt between them. Wincing as Bobby slid right back in, Brody cupped his dick and balls out of the way so that there was a better view of Bobby fucking him. Bobby grabbed Brody's ankles and held his legs apart, moaning in pleasure as he fucked Brody. It wasn't going to be long before Bobby was ready to cum as he started going harder and faster.

Bobby said he was ready to cum, and as he pulled out, he nominated Brody's dollar sign bling earrings as the perfect place to splash down on. Condom torn off and thrown on the ground, Bobby moved to kneel by Brody's head and wanked off. Brody had his head turned to one side, a less than impressed expression on his face as he waited for Bobby to cum. Cringing, Brody wasn't happy when Bobby suddenly sprinkled cum over his ear, down his neck and into his hair. The boys did a great job today, especially Brody for going out of his comfort zone and trying a few new things.